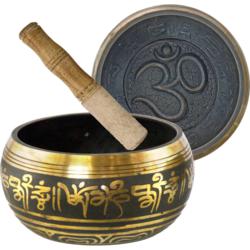 (PRWEB) June 15, 2013
The New Age Source, premier metaphysical store, shares its top picks for Father's Day gifts. The New Age Source specialized in the highest quality spiritual gifts to provide inspiration along the path to fulfillment. Father's Day is right around the corner. The New Age Source encourages you to give something meaningful this year.
The gifting experts at The New Age Source selected these charming pieces to show your appreciation to Dad this year:
1. Wall Hanging Celtic Dragon Tapestry - This symbolic tapestry features a fierce red Celtic Dragon encircled in vibrant blue design. The tapestry's borders are framed by interwoven black eternity knots. Celtic Dragons, like the knots woven into the flaps of their wings, symbolize eternal life. Each beautiful tapestry is meticulously hand crafted from 100% cotton. Tapestries can be hung on the wall, used as tablecloth, blanket, curtain, or as a focal point for meditation.
2. Brass and Copper Phurba - This Buddhist relic is made of sturdy brass and copper with a delicate antique finish. The Phurba fits comfortable in one's hand to be used during meditation.
3. Singing Bowl - This carefully crafted singing bowl features an Om symbol, meticulously molded onto the lid of this beautiful piece. Equally impressive is the Tibetan script which has been embossed on the bowls perimeter. A wooden dowel-striker is included.
4. Bali Djembe - This deep carved Djembe features intricate carvings around the base with a beautiful antique brown finish. On the bowl of the drum the brown finish surrounds the natural light wood tones of a carved dragon. Extra detailing on the bowl gives this drum a unique texture. Adjustable heads are secured with nylon rope runners for superior sound quality.
5. Satya Nag Champa Incense - This is the original Satya Sai Baba Nag Champa. Made in India, a traditional hand rolled masala incense made of herbs, resins, flowers and oils. A delightful blend that makes this sweet and earthy fragrance simply the most popular incense in the world!
To view more gift offerings from The New Age Source visit http://www.thenewagesource.com.
About The New Age Source:
The New Age Source is a leading retailer of high quality metaphysical products. The New Age Source strives to offer each customer personalized inspiration to assist them on their path to fulfillment. The New Age source offers a variety of spiritual lamps, incenses, crystals, dream catchers and much more.