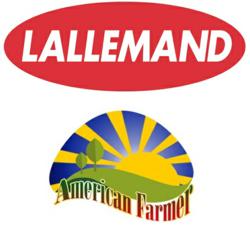 Milwaukee, WI (PRWEB) June 17, 2013
Lallemand Animal Nutrition, a company dedicated to the development, production, and marketing of profitable, natural and differentiated solutions for animal nutrition and health, announced today they will be featured in an upcoming episode of American Farmer airing later this year on RFD-TV.
In this episode, American Farmer will explore Lallemand Animal Nutrition; pioneers in the feed and food industry who manufacture a range of natural yeast and bacteria products to improve animal health and performance. Audiences will be educated on some of their core products, which include freeze dried bacteria approved for use as probiotic feed additives and silage inoculants, live dry yeast zootechnical feed additives and inactive mineral enriched yeast supplements. The Animal Nutrition division also supplies a range of related animal health and nutrition products including yeast cell fractions and diet acidifiers.
"We're excited to partner with American Farmer to present an episode on the importance of natural feed additives for animal nutrition and health," Jeff Ast, Commercial Director, Lallemand Animal Nutrition, North America, said. "Today's producer must arm himself with the best management tools available to maximize performance and profitability."
"Lallemand's focus is on research-based products, especially proprietary strains of yeast and bacteria," said Charlie Cowan, Senior Producer for American Farmer. "The Lallemand R&D team works with a network of research partners at Universities, Institutes and Companies from all over the world. I'm thrilled to be able to educate our viewers on some of the amazing things Lallemand is doing for the livestock industry."
About Lallemand Animal Nutrition:
Lallemand is a primary manufacturer of yeast and bacteria. Freeze dried bacteria are used in the formulation of Direct Fed Microbials and silage inoculants, and active dry yeast for use as a Probiotics. Specific strains of bacteria and yeast are identified and selected through intense research, validated through trials with strategic research partners, and tested in the field.
For more information, visit: http://www.lallemandanimalnutrition.com or contact Wendy Mayo, Marketing Communications Manager, Lallemand Animal Nutrition at: (414) 988-6275 or via email at wmayo(at)lallemand(dot)com.
About American Farmer:
American Farmer is a breakthrough program on a mission to showcase the latest advancements in agriculture and farming. From seed to harvest, livestock and more, our producers have traveled the country covering the people, places and issues impacting all areas of farm country.
American Farmer airs Tuesdays at 8:30 a.m. EST on RFD-TV as well as Saturdays at 1:30 p.m. and Midnight EST on RURAL-TV.
For more information visit: http://www.americanfarmertv.com or call (866) 496-4065.
Media Contact:
Charlie Cowan, Senior Producer / American Farmer
(866) 496-4065 x 875
charlie(at)americanfarmertv(dot)com