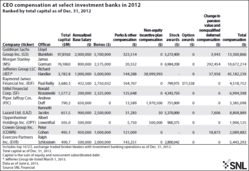 Charlottesville, VA (PRWEB) June 17, 2013
The two largest independent investment banks in the U.S. moved in opposite directions when it came to executive pay in 2012 according to SNL Financial's latest analysis.
Goldman Sachs Group Inc.'s compensation committee increased its named executive officers' annual variable compensation for 2012 even as it lowered its variable compensation for all its partner managing directors. The committee set Chairman and CEO Lloyd Blankfein's 2012 compensation at $21.0 million, up from $12.0 million in the previous year, as the executive was granted $13.3 million in restricted stock units.
The data SNL used to determine 2012 compensation does not include the restricted stock units executives are granted for that year because they were granted in 2013. Per SEC rules, those figures will be included in the 2013 summary compensation tables in the companies' 2014 proxy statements. The stock awards figures SNL used represent the grant date fair value of the restricted stock units granted Feb. 1, 2012, for services in 2011.
When using that data, Blankfein saw his compensation edge down year over year to $13.3 million from $16.6 million in the prior year. Blankfein earned a $5.7 million cash bonus in 2012, up from $3.0 million in 2011, but his stock awards slid to $5.3 million from $10.7 million.
Morgan Stanley Chairman, President and CEO James Gorman is likely to see his pay decline again in 2013 after his comprehensive pay opportunity fell 7% to about $9.8 million from $10.5 million. Gorman's 2012 compensation totaled $10.7 million, down from about $13.0 million in 2011 and $15.2 million in 2010.
For the full report click here
*Note-- This report includes data and analysis for the top 10 U.S. exchange-traded broker/dealers with investment banking operations as of Dec. 31, 2012.
###