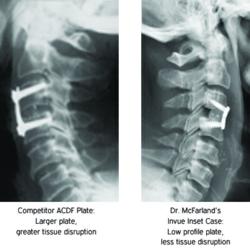 The new trial drill guide allowed for a refinement of technique that helped make the case seamless.
Newport News, VA (PRWEB) June 21, 2013
Orthopaedic & Spine Center (http://www.OSC-Ortho.com) announced today that Dr. Mark W. McFarland successfully completed a procedure using SpineFrontier's® Invue® Inset™ Anterior Cervical Plate system, along with their newly designed Invue Inset Trial Drill Guide. The operation occurred on May 20, 2013 at Bon Secours Mary Immaculate Hospital in Newport News, VA. The surgery was an anterior cervical decompression and fusion on a 47 year-old male.
SpineFrontier's anterior cervical plate, Invue Inset, as well as the Invue Inset Trial-Cage Drill Guide are Less Exposure Surgery (LES®) technologies. LES technologies allow for same day outpatient surgery with minimal disruption of the tissues.
Dr. McFarland, a proponent for LES technologies explained the benefits of Invue Inset, "The plate's low profile design prevents removal potential in the future while also minimizing future disruption to adjacent levels. It is also less disruptive to structures such as the esophagus and windpipe. The new trial drill guide allowed for a refinement of technique that helped make the case seamless."
SpineFrontier's new Invue Inset Trial-Cage Drill Guide pre-aligns screw trajectory, allowing the surgeon to pre-drill an optimized screw position before placing the Inset plate. The screws are then placed through the plate into the pre-drilled screw holes. The Invue Inset Trial-Cage Drill Guide combines the trial and drill guides into one instrument, streamlining the surgical technique by minimizing steps in the procedure. The Invue Inset anterior cervical plate provides temporary stabilization during the development of cervical spinal fusions. Its ultra-low profile design minimizes encroachment on adjacent levels while still allowing for the stability of a four-screw construct. The Inset plate features variable screw angulation and a zero-step screw lock to prevent screw back out. The system also provides tactile, audible, and visual feedback of the screw's engagement, as well as a screw recovery feature.
Dr. McFarland currently practices orthopaedic surgery at the Orthopaedic & Spine Center in Newport News, VA where he focuses primarily on the care and treatment of injuries and disorders of the spine. Dr. McFarland graduated from Oklahoma State University Medical School in 1999. He completed his residency in orthopaedic surgery at Ohio University and then went on to complete an Orthopaedic Spine Surgery Fellowship at the Florida Spine Institute in Clearwater, Florida. Dr. McFarland is a member of the American Academy of Orthopaedic Surgeons and the American College of Osteopathic Surgeons. Among other honors, he has received the "Graduating Physician Academic Excellence Award." His research includes studies on vertebral compression fracture outcomes.
Dr. McFarland commented on the positive patient outcome, "The Invue Inset plate made for a much less invasive surgery and the patient is recovering well post-operatively."
About Less Exposure Surgery (LES) Philosophy
"The Less Exposure Surgery (http://www.les-society.org) philosophy is to use proportionate exposure for maximal effectiveness, to preserve the anatomy, diminish blood loss, surgical time, and exposure to radiation," says spine surgeon and LES advocate, Kingsley R. Chin, M.D.
About SpineFrontier
SpineFrontier Inc. (http://www.spinefrontier.com) is a growing medical device technology company that is focused on designing, developing and marketing implants and instruments used for Less Exposure Surgery (LES) of the spine. The company's suite of best in class technologies and techniques for spinal surgery allow for preservation of the patient's natural anatomy with minimal disruption and blood loss, as well as short operative and anesthesia times. LES technologies provide technical ease for the surgeon so patients can recover rapidly and experience superior outcomes. The company was founded in 2006, released its first products in 2008, and is headquartered in Beverly, MA.
Contact:
Media
connecting(at)spinefrontier(dot)com