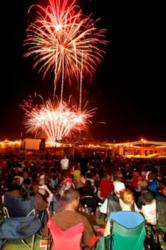 Tempe, AZ (PRWEB) June 17, 2013
There is no better way to have fun this summer than celebrating Independence Day. In Tempe, Ariz., there is no better way to celebrate Independence Day than watching the fireworks show over Tempe Town Lake. There are several ways to view the spectacular, patriotic show in Tempe. The Tempe Tourism Office is the best resource for this signature event, as well as all other summer events and activities.
The July 4th Tempe Town Lake Festival presented by FOX 10 and produced by the Kiwanis Club of Tempe is the perfect way to enjoy this summer holiday. Gates will open at 5 p.m. at Tempe Beach Park. All ages can enjoy live local music, a food court and rock climbing walls. Kids can cool off in the AZCentral.com Splash Playground, in addition to other kid's activities and games. The largest annual fireworks display in Arizona will be launched from the Mill Avenue bridge and will be choreographed to patriotic and classical musical. Fireworks will begin at approximately 9:15 p.m. Tickets for the Tempe 4th celebration are now available for purchase at Fry's and Fry's Marketplace stores. General admission tickets are $5 plus any applicable charges at all Valley Fry's stores. General admission tickets can also be purchased at the City of Tempe for $5 until July 3rd or by visiting Tempe4th.com. Additional service rates and charges may apply. Tickets are $8 at the gate or $15 for two tickets. The show is expected to be 35 minutes long. Children 12 and under and active military with their military ID card receive free general admission.
Tickets can also be purchased for the Sally's BBQ and Pepsi VIP Garden. VIP ticket holders get a special view of the fireworks from a misted area, barbecue dinner and two drinks. VIP tickets are $60 for adults and $30 for children 5-12 years old. Children under five are free. Net proceeds from the fireworks show and celebration will benefit the Kiwanis Club of Tempe Children's Charities.
Families can also watch the amazing Tempe Town Lake fireworks and enjoy fun activities at the 4th of Zoo-ly at the Phoenix Zoo from 7-10 p.m. There will be a catered barbecue dinner at the Lakeside Lawn, carousel rides and access to Stingray Bay from 7:00 – 8:30 p.m. Kids will be entertained with face painting, airbrushed tattoos, bounce houses, animal discoveries and other activities. The VIP view of the Tempe Town Lake fireworks show will begin at 9:00 p.m., including a cool treat for all guests. Tickets are $45.00 for adults (13 & up), $35.00 for children (3-12) and children two years or younger are free. Call (602) 914-4333 to make a reservation.
Residents and visitors can also see the Tempe Town Lake fireworks from Rolling Hills Golf Course, 1415 N. Mill Ave. Guests can enjoy a backyard barbecue, including hamburgers, hot dogs, beans, corn-on-the-cob, coleslaw and chips for $8.99 for adults and $5.99 for kids. Before the fireworks show at 9:15 p.m., there will be putting contests and other family fun. Golfers can also practice their swing on the driving range until 7:30 p.m. Golf reservations can be made by calling 480-350-5275. Parking is $5 and is first come, first served.
A great holiday staycation on July 4th is possible at one of Tempe's fantastic hotels. Many Tempe properties are conveniently close to the stellar fireworks at Tempe Town Lake. For more information about planning your holiday in Tempe, including dining options, activities and hotel special offers, visit http://www.TempeTourism.com or call 800-283-6734.
About Tourism Office
The Tempe Tourism Office is a non-profit organization devoted to marketing Tempe, Arizona as a desirable visitor and group destination site. The Tempe Tourism Office's mission is to provide visitors, media professionals and meeting planners with information on Tempe hotels, Tempe restaurants, Tempe entertainment and local points of interest. To learn more about Tempe, Arizona please call 480-894-8158 or 800-283-6734 or visit http://www.TempeTourism.com.