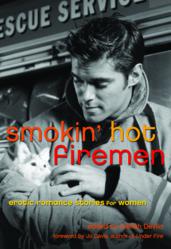 "This collection is a fun read that can be dipped in and out of as the mood takes but one that definitely puts an emphasis on the more romantic side of sex rather than the physical."

—For Book's Sake
(PRWEB) June 17, 2013
A recent Publishers Weekly article debunks the myth that people from small and/or conservative towns don't read romance. As Cleis Press publisher Brenda Knight reveals, "Readers in the Southeast were early adopters of female submission books. The Bible Belt has been quietly reading female submission right along with all the Bibles." Well aware that romance is the only genre of literature that is on the rise, Cleis Press will publish Bedded Bliss by Kristina Wright, a cross-genre compendium of romance and real-life relationship tips. Other upcoming romance titles from Cleis featured in Publishers Weekly include Dark Secret Love (Alison Tyler), Smokin' Hot Firemen (Delilah Devlin), and High Octane Heroes (Delilah Devlin).
In the same way, librarians are now saying that steamy reads are their most circulated titles. This growing interest amongst library patrons in romance has sparked a match made in heaven for publishers and libraries; on the whole, romance books are better bargains for the libraries, and publishers get their books into the hands of more voracious readers.
Cleis Press publishes provocative, intelligent books across genres. Whether literary fiction, human rights, mystery, romance, erotica, LGBTQ studies, pulp fiction, or memoir, you know that if it's outside the ordinary, it's Cleis Press.