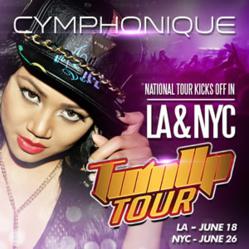 Los Angeles, CA (PRWEB) June 14, 2013
Record Label No Limit Forever announced today that recording artist Cymphonique Miller will kick off her national concert series "TURN UP TOUR" at The Roxy Theatre in West Hollywood, CA. Tuesday June 18th at 6:30pm. Tickets can be purchased at http://tktwb.tw/ZPtzVI.
In addition, in partnership with BYOU, they are holding a contest where Cymphonique fans can win VIP tickets, intimate and upclose concert experience with teen superstar Cymphonique. The next concert date is June 26th at Gramercy Theatre in New York City. Fans can enter the contest at this website: http://blog.beyourownyou.com/cymphonique-contest.
Cymphonique Miller, is an actress, singer, dancer and writer. This Los Angeles native, is one of Hollywood's biggest teen phenomes and the star of the hit TV show How To Rock. Cymphonique has made a name for herself and built a diverse R&B, Pop and Hip Hop fan base through the internet before taking her acting and music career mainstream. At a remarkably young age, she created her own brand and identity in the entertainment world.
About BYOU - Be Your Own You:
Be Your Own You is a lifestyle brand that empowers women and girls through positive messaging, apparel and accessories, educational programs and an editorial magazine. BYOU was formed in partnership with Children's Edutainment Network and Cymphonique Miller. Today, BYOU is building a brand that will touch the lives of girls and women worldwide. For more information, and to check out the online store visit http://www.BeYourOwnYou.com.