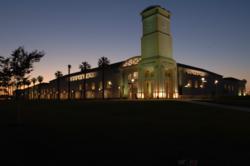 Northridge, CA (PRWEB) June 17, 2013
Contemporary Services Corporation (CSC), the world leader in crowd management and event security, announces its three-year contract renewal with Fresno State and Save Mart Center at Fresno State. Currently contracted through June 2016, Fresno State has utilized CSC's services since 1986 for both its football and baseball home games. Additionally, CSC has been affiliated with Save Mart Center, managed by SMG, since its 2003 inaugural opening and has provided services for various concerts, Fresno State basketball home games, and several NCAA women's basketball regional finals.
CSC's Fresno branch office, managed by Robert Humphrey, is pleased to continue this long-standing relationship and thanks both clients for their loyalty and support. CSC provides services for Fresno State under the direction of Thomas Boeh - Athletic Director, John Kriebs - Associate Athletic Director, Karin Oliver - Director of Operations, and D.J. Giumento - Director of Events. Services are provided for Save Mart Center under the direction of Steve Tadlock – Regional General Manager, Sean McElhinney - Assistant General Manager, Steve Aoki - Event Manager, and Michelle Cassida - Patron Service Manager.
About Contemporary Services Corporation
Contemporary Services Corporation (CSC) is the world leader in crowd management and event security for the entertainment and sporting event industries. Throughout its 46 years of experience, CSC has garnered a loyal and esteemed client base, including more than 100 stadiums and arenas, over 100 universities and colleges, more than 20 convention centers, and numerous clients within the professional ranks of MLB, MLS, NBA, NFL, NHL, and NASCAR. CSC has also provided services for the world's most prestigious special events, including Collegiate Bowl Games, NCAA Final Four Tournaments, PGA Tournaments, US Open Tennis, 30 Super Bowls, 8 Olympic Games, 4 Presidential Inaugurations, 2 Papal visits, and 2 FIFA World Cups. CSC operates more than 50 branch locations throughout the United States and Canada.
http://www.csc-usa.com