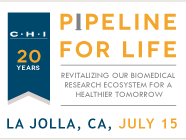 LA JOLLA, Calif. (PRWEB) June 17, 2013
CHI to Host Forum on Biomedical Research, Public Policy and Innovation Success in the Fiscal Climate for the 21st Century
WHAT: CHI-California Healthcare Institute is hosting Pipeline for Life: Revitalizing Our Biomedical Research Ecosystem for a Healthier Tomorrow in La Jolla, California. Sequestration is putting enormous pressure on government funding for research programs that form the scientific base for innovative medical advances for patients. This program will bring biomedical industry leaders and academic researchers together to discuss collaborative strategies to reduce the negative effects of declining government support.
WHO: Top academic leaders and industry executives from: Allergan, Bristol-Myers Squibb, Cedars-Sinai, Bay City Capital, Genzyme, The Scripps Research Institute, J. Gladstone Institutes, Gilead Sciences, Bay City Capital, City of Hope, Thermo Fisher Scientific, Health and policy experts from CHI, University of California, Irvine, University of California, San Diego and more.
WHY: At Pipeline for Life, California Healthcare Institute (CHI) will convene an extraordinary group of biomedical industry leaders and influential policymakers for focused discussions on success in basic research, public policy, modernizing innovation and strategy while reshaping the market for medical innovation and research inspiration for success in new therapies and medical technologies. This event brings together representatives from CHI's member organizations with policymakers to discuss critical issues and opportunities facing the biomedical community. The goal of the Pipeline for Life is to produce a clearer understanding of the biomedical community's work and needs, and how the industry can sustain California's leadership in biomedical research and innovation.
WHO SHOULD ATTEND: Leaders from California's biomedical industry, academic research community, entrepreneurs, healthcare providers, investors, members of the media, policy experts and patient advocates.
WHEN: Monday, July 15, 2013
Registration: 11:30 a.m. – noon
Welcoming Lunch: noon - 1:10 p.m.
Panel discussions and keynotes: 1:15 – 5:00 p.m.
Reception: 5–6 p.m.
WHERE: The Salk Institute for Biological Studies, 10010 North Torrey Pines Road, La Jolla, California
For more information, visit chi.org/events
CONTACT:
Media Inquiries & Event Registration:
Will Zasadny
858-456-8881
Zasadny(at)chi(dot)org
About CHI
CHI represents more than 275 leading biotechnology, medical device, diagnostics, and pharmaceutical companies, and public and private academic biomedical research organizations. CHI's mission is to advance responsible public policies that foster medical innovation and promote scientific discovery. CHI's website is http://www.chi.org. Follow us on Twitter @calhealthcare, Facebook, LinkedIn and YouTube.