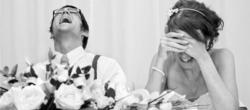 Don't be part of the next wedding blooper reel on YouTube!
Cleveland, OH (PRWEB) June 15, 2013
It's that time of year again. Dress fittings are commencing and best man speeches are being written. It's also time to find that special plus one because wedding season is here. Trying to find a date to attend a family wedding can be stressful, and it's especially hard when your date isn't behaving.
The Frisky recently offered some guidelines to be a good wedding date. Some of the tips seemed simple enough such as wearing the appropriate attire. Another tip was asking the wedding date to not "talk smack" about the wedding.
"It's one thing when someone takes a playful jab at the groom in a best man speech," said Laugh Staff co-founder Josh Womack. "It's another thing to stand there and say negative things about the wedding. It's common knowledge that the bride will have picked out dresses the bridesmaids don't like, but there's no reason to talk about it at the reception."
The Frisky also detailed that a wedding date should be prepared to dance, but also to not get "stupid drunk."
"Now that just seems counter intuitive," said Womack. "You're telling me I have to dance, but not get drunk? I'm just kidding of course. I always tell my clients not to get drunk before giving their best man speech, but this is a good idea just for the course of the night. Let someone else embarrass themselves.
These were just a few great tips The Frisky had to offer to be a good wedding date. Laugh Staff believes it is a good idea to heed their advice because planning a wedding is stressful. So wedding dates can do their small part to make the day go smoothly by taking some advice from friends at The Frisky.
For more information about Laugh Staff Inc. and their speech writing services visit http://www.laughstaff.com or email info(at)laughstaff(dot)com.
About Laugh Staff:
Laugh Staff, Inc. was founded in 2012 by a team of comedians and writers in Cleveland, Ohio. Laugh Staff helps their clients with best man speeches as well as providing best man speech examplesbest man speech examples on their blog. They assist best men and maids of honor in speech-editing, speech writing, and provide training on speech delivery. Recognizing the importance of the big day, Laugh Staff's professional comedians work with best men and maids of honor to ensure they make a lasting impression.