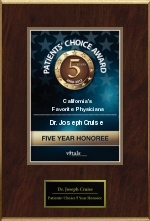 I take great pride in providing my patients with the highest level of care. It is imperative to me that my patients are well taken care of and happy with their outcomes.
Newport Beach, CA (PRWEB) June 19, 2013
Cruise Plastic Surgery, one of the top plastic surgery practices in Orange County, is proud to announce that Dr. Joseph Cruise has been selected as a five-time Patients' Choice Award Honoree. A very small percentage of the nation's physicians are honored with the Patients' Choice Award and an even smaller group are being recognized as five-time honorees. There are approximately 900,000 doctors in the U.S., and just five percent earned continuously high ratings from patients on Vitals, UCompareHealthCare, and other online review sites in 2012 earning them a Patients' Choice Award. Only one percent of U.S. doctors earned this award for five consecutive years (2008-2012).
When asked about the five time recognition Dr. Cruise said, "I'm very grateful that so many patients have gone out of their way over the past five years to rate my care - and rate it so highly! It's wonderful to be recognized in this particular way. Thank you."
Millions of patients every year turn to online review sites to rate their experience with their doctors. Reviews are focused on providing information about matters such as, bedside manner, expertise and care, staff, accuracy of diagnosis, results, and overall office environment. Every year Vitals analyzes these reviews and ratings to identify the Patients' Choice Award winners.
For more information about Cruise Plastic Surgery, go to:
http://www.orangecountycosmeticsurgery.com
About Cruise Plastic Surgery
Cruise Plastic Surgery, located in Newport Beach, Orange County, California, is one of the top plastic surgery practices in the Southern California region. The director, Dr. Joseph T. Cruise, is a fully trained, board-certified plastic surgeon specializing in facelift, breast augmentation, tummy tuck and other cosmetic surgery procedures. Dr. Cruise is also one of the region's best known surgeons for rhinoplasty (nose surgery), neck lift surgery and gynecomastia. His dedication and focus is clearly evident in the comprehensive educationally based web site he manages and the concierge-like customer service his patients receive from the entire office. Experience and predictably good results have earned him the distinction of being one of the best plastic surgeons in Orange County.