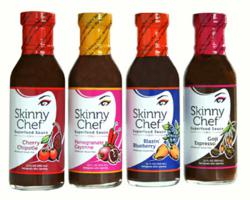 New York, NY (PRWEB) June 17, 2013
The Skinny Chef line includes four sauces — Goji Espresso, Cherry Chipotle, Pomegranate Cayenne and Blazin' Blueberry. Each sauce can be used with a variety of meats and vegetables for grilling, broiling, baking, marinating and finishing. At approximately 35-55 calories per serving and with only 25-75 mg sodium per 2 tablespoons, they are ideal for anyone who is pre-diabetic, needs to control their sodium intake or follows a low-carb diet. The sauces also are packed with a nutritional boost thanks to their superfood ingredients.
Fancy Food Show Details for Skinny Chef Jennifer Iserloh
Event: Summer Fancy Food Show, Jacob Javits Center, New York
Dates: June 30 – July 2
Time: 9 am – 4 pm
Location: The New Brands on the Shelf Pavilion (Level 1/Behind the 3400 Aisle)
For media kits or to arrange an interview, please contact:
John Salak
The Salak Group
201 798 6481 (office), 201 303 0534 (cell)
jsalak(at)thesalakgroup(dot)com
About Jennifer Iserloh
Jennifer Iserloh is a certified health coach, renowned healthy cooking expert and well-regarded expert on nutrition and natural weight loss, who regularly appears on Fox News, The Today Show and other TV network programs. Her nutritional philosophy offers a gateway to a healthier lifestyle that results in permanent weight loss without painful dieting and a tedious menu of tasteless foods. She is the author of thousands of recipes and guest articles as well as several books including the recent Amazon bestsellers "Healthy Cheats" and "50 Shades of Kale". Iserloh also empowers thousands of people each day to take on a bigger role in their own health and eat more superfoods through her site at http://skinnychef.com — a fountain of news, recipes and advice.