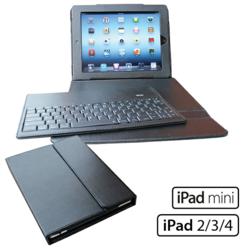 iGear's Bluetooth Keyboard Portfolio combines the best of all worlds... Well-padded protection for the iPad, and the typing speed and accuracy only available with a physical keyboard.

Chicago, IL (PRWEB) June 20, 2013
One company is determined to offer a "perfect" iPad case – iGear's iPad Leather Keyboard Portfolio combines the protection offered by a well padded leatherette case, a built-in magnetically removable Bluetooth keyboard, with the company's advanced UV flatbed printing capabilities to create the ultimate iPad case for businesses.
The iPad Leather Keyboard Portfolio Case satisfies almost all the features people look for when purchasing an iPad case:
1. Protection. Not just the front screen like Apple's smart cover, and not just the back like many cheap clip-on cases on the market, but full body protection. The case should protect the iPad all around – front, back, sides, and corners.
2. Function. Does the case offer smart cover design to automatically set the iPad to sleep when not in use? Are all the ports easily accessible without having to remove the iPad from the case?
3. Keyboard. The virtual keyboard on the iPad is fine for entering an URL or typing a small amount of text. But users overwhelmingly prefer a physical keyboard with the conventional tactile feel of pressing each key. It makes typing so much faster and more accurate.
4. Keyboard should be rechargeable and detachable. A Bluetooth keyboard with high quality lithium-ion rechargeable battery saves money for its owner and is usually lighter weight. While some keyboards are fixed in the case, the best designs feature a detachable keyboard, using magnets, to offer the ultimate in convenience and flexibility.
5. Affordable. Yes, nice things cost money, but an accessory for the iPad shouldn't break the bank. It should be competitively priced in the marketplace.
The case itself is made of high-grade textured leatherette, offering tough protection for day to day use. The case is padded all around, protecting the iPad from front, back, sides, and corners. The built-in Bluetooth keyboard features a full-size QWERTY layout with hard keys (unlike soft rubbery keys found on less expensive keyboards), rechargeable lithium-ion battery, and attaches magnetically to the Portfolio case. The built-in Lithium-Ion battery lasts up to 55 hours with each charge.
"iGear's iPad Keyboard Portfolio Case combines the best of all worlds..." says Jimmy Sun, president of iGearUnlimited.com. "Well-padded protection for the iPad, and the typing speed and accuracy only available with a physical keyboard."
iPad Keyboard Portfolio Case is available from iGearUnlimited.com. Regularly priced at $99, it's available for a limited time for only $79 each. Schools and businesses should call for additional discounts on bulk orders.
About iGearUnlimited.com
iGearUnlimited.com is powered by Sunrise Digital, an Inc. 5000 company established in 1988 and employs the most advanced equipment and technology, such as G7-certified HP Indigo and UV flatbed presses, and digital die-cutting, to create best-in-class products. A privately-owned enterprise, the company is based in Chicago and sells products worldwide.