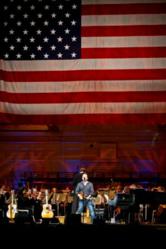 It is an amazing night when you can bring together the Boston Pops and Nashville's best to perform for our heroes on Flag Day.
Boston, MA (PRWEB) June 15, 2013
The Boston community welcomed Nashville's Music City Hit-Makers Brett James, Hillary Lindsey, and Gordie Sampson in their Boston Pops debut, to Symphony Hall for a patriotic performance to salute America's military. Led by legendary Boston Pops Conductor, Keith Lockhart, the Pops and the Tanglewood Festival Chorus dazzled the crowd of more than 200 military and community supporters last night.
"Tonight we not only honor our nation's flag on Flag Day, but also those who stand to defend it," said Lockhart as he addressed the audience. "Seldom have we been tested more than we have been recently and we have been reminded how precious our freedom is. This freedom so treasured by all of us."
Friday's event celebrated Flag Day, the Army's Birthday and this year marks the 20th anniversary of the Battle of Mogadishu and the story of "Black Hawk Down". USO Tour Veteran and Country Music Artist Keni Thomas, a decorated combat veteran of the 75th Ranger Regiment, fought in that historic battle. Since leaving the military he has given back with more than a hundred appearances, including six tours with the USO. Thomas, accompanied by the Pops and the all volunteer Tanglewood Festival Chorus, kicked off the evening with the Star- Spangled Banner.
The Pops performed classical patriotic scores like America the Beautiful as well as music from Boston Pops alumni John William's score for the movie Lincoln. The Music City Hit-Makers, who collectively, have composed more than 20 billboard singles, performed a selection of their tops hits, sharing the stories behind how each song was birthed. The audience delivered a standing ovation for an original score, written by the Hit-Makers, created especially for America's troops serving overseas and those in the audience.
"It is an amazing night when you can bring together the Boston Pops and Nashville's best to perform for our heroes on Flag Day," said Alan Reyes, USO Senior Vice President, Operations. "We are so grateful to the greater Boston community for their support of our troops."
Service men and women from all branches of the military were in attendance. Proceeds from today's event benefit the New England USO which serves more than 40,000 troops and military families each year. Click here for photos and visit http://www.uso.org for more information about the USO.
About the USO
The USO lifts the spirits of America's troops and their families millions of times each year at hundreds of places worldwide. We provide a touch of home through centers at airports and military bases in the U.S. and abroad, top quality entertainment and innovative programs and services. We also provide critical support to those who need us most, including forward-deployed troops, military families, wounded warriors and families of the fallen. The USO is a private, non-profit organization, not a government agency. Our programs and services are made possible by the American people, support of our corporate partners and the dedication of our volunteers and staff.
In addition to individual donors and corporate sponsors, the USO is supported by President's Circle Partners: American Airlines, AT&T, Clear Channel, The Coca-Cola Company, Grand Canyon University, jcpenney, Jeep, Kangaroo Express, Kroger, Lowe's, Northrop Grumman Corporation, Procter & Gamble and TriWest Healthcare Alliance and Worldwide Strategic Partners: BAE Systems, The Boeing Company, Lockheed Martin, Microsoft Corporation and TKS Telepost Kabel-Service Kaiserslautern GmbH & Co. KG. We are also supported through the United Way and Combined Federal Campaign (CFC-11381). To join us in this patriotic mission, and to learn more about the USO, please visit uso.org.