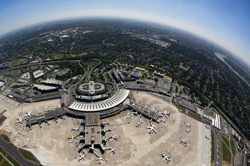 The latest of several awards DUS has received for environmentally conscious operations.
Düsseldorf, Germany (PRWEB) June 17, 2013
Düsseldorf Airport (DUS) has been recognized again for its continued efforts in environmental protection and energy efficiency. The airport has identified and created opportunities for energy and cost savings and environmentally friendly operations, and the results earned the ÖKOPROFIT seal of approval in June 2013.
ÖKOPROFIT is the latest of several awards the airport has received for environmentally conscious operations. Most recently, DUS received the second level of the renowned seal of approval "Airport-Carbon-Accreditation" (ACA) by Airport Council International (ACI) Europe for CO2 reduction.
DUS CEO Christoph Blume says: "We consider climate protection a continuous process and keep working on making our environmental strategies more effective."
One way of effective internal monitoring of CO2 emissions is a highly trained and sensitive staff. DUS has been employing "CO2 Scouts" since July 2011 in all organizational areas. They identify and execute ways to reduce emissions. Examples of improvements at DUS include a second combined heat and power unit, which is currently being built, optimized indoor air equipment and new photovoltaic plants.
DUS is working to reduce CO2 emissions by 10% per passenger by 2020.
ÖKOPROFIT, initiated in 1991 for the integration of environmental technology by organizations, is a program adopted by many European countries and local and regional governments. German state North Rhine Westphalia, of which Düsseldorf is the capital, has been participating in ÖKOPROFIT since 2000, with many of its projects meeting the program's standards. DUS is one of 23 regional organizations that applied in May 2012, and the award recognizes the airport's extensive and sound strategies for climate control and environmental protection.
For more information, visit http://www.fly2dus.com.
In League with New York, London, Paris and More
Adding to Düsseldorf's appeal, several US & Canadian cities (Atlanta, Chicago, Ft. Myers, Los Angeles, Miami, New York, Newark, Toronto) offer non-stop flights. Passengers who continue their journeys can choose from numerous convenient connections to Berlin, Munich, Frankfurt, Hamburg and many other German and European cities. Throughout the year, 70 airlines serve 190 destinations worldwide – among them 125 European destinations. Another major advantage of the airport is its layout. With all gates in one terminal building, Düsseldorf Airport is the "airport of short distances" – guaranteeing minimum connection times of 35 minutes.
The airport is at the center of the Rhine Ruhr area, a bustling network of 53 connected cities and 18 million residents within 40 miles. It is the EU's third largest market in volume and spending and equal to major metropolitan regions like New York, London and Paris. 500,000 companies are located in the area, including 5,000 offices of foreign corporations, the majority from the Netherlands, Japan and the USA. Many major international industry players, including Fujifilm Europe, Nokia Siemens, Novell, Ericsson, Deloitte & Touche, McKinsey, and Toshiba, are headquartered in Düsseldorf, which is a first-rate location for high-tech concerns. International presence and fast accessibility – guaranteed by DUS being one of Germany's major hubs – make the location highly attractive.
Düsseldorf and North Rhine-Westphalia, ranked 17 in GDP among the world's major industrial centers, are also home to some of the most significant exhibitions and trade shows in the world. Of the 50 annual events at Düsseldorf's Exhibition Center, 23 lead their industry worldwide, for example, printing technology ("drupa"), plastics and rubber ("K"), medicine ("MEDICA" and "REHACARE INTERNATIONAL"), leisure time ("boot") or packaging ("interpack"). For more information on Düsseldorf Airport, visit http://www.fly2dus.com
Düsseldorf Tourism & Marketing GmbH is the visitors and convention bureau of the city of Düsseldorf. Its services include tourism and city marketing, conference and meeting marketing, hotel reservation services, fairs and convention services, city event ticket sales and advance ticket reservations. For more information, visit http://www.visitduesseldorf.de.