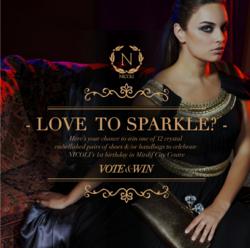 Win by simply voting for your favorite NICOLI shoe and / or handbag on Facebook.com/nicolishoes
Dubai (PRWEB) June 16, 2013
Renowned worldwide for its fashion authority, Italian craftsmanship, Arabian elegance and unmatched quality; few luxury shoe and handbag fashion houses can boast as much mystique as NICOLI. The glamorous crystal embellished world of NICOLI is not just exclusive, it is elegant, unique and highly sought after too. Created as the perfect accessory to life's most beautiful and memorable moments, Hollywood glamour and Italian styling is behind, and can be seen in everything NICOLI does; from the exquisite hand crafted limited edition evening handbags, purses and clutches to the glamorous Swarovski diamante embellished shoes.
Steeped in glamor and famed for fashionable yet timeless products, NICOLI continues to explore new grounds to reach its clientele even more conveniently. To celebrate and strengthen the bond with their valued customers, NICOLI launched its first ever Facebook competition; Love to Sparkle? two weeks ago, to celebrate the 1st Birthday of its Mirdif City Centre Boutique in Dubai. The Love to Sparkle? competition, which gives entrants the chance to win one of 12 fabulous crystal embellished handbags and/or pairs of shoes has proven very poplar among local and international fashionistas; ''Surprisingly, we've also had a large number of male entrants hoping to win our beautiful limited edition NICOLI products for their partners"- Kate Weaver, Marketing and Business Development Director.
To enter the Love to Sparkle? competition is super simple. Simply, Like the NICOLI Facebook page, enter the Love to Sparkle? tab, click the enter competition button and vote for a NICOLI Shoe or Handbag by clicking the LOVE button. It's that easy! Winners will be notified via email and products they have won will be shipped to them.
NICOLI is also pleased to announce that because of the overwhelming support and popularity, the worldwide NICOLI - Love to Sparkle? promotion will now become a permanent monthly fixture for the brand on Facebook, thus, giving every shoe and handbag aficionado a chance to shine in NICOLI's luxurious crystal embellished products for free!
This superb Love to Sparkle? competition is available to shoe and handbag lovers worldwide and anyone can enter by simply liking the NICOLI Facebook page and selecting their favorite NICOLI products. Its that simple! Just remember, participation is key for a chance to win these beautiful limited edition shoes and handbags.