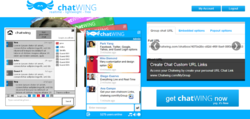 Miami, FL (PRWEB) June 16, 2013
Chatwing and its team of talented developers have focused on launching their newest chatroom that has a perpetual message history system. With this advanced feature, users can now check out past messages, no matter how long they have been in the chatroom. A clear benefit of this chat software feature is endless data review. The messages can also be checked for various references.
According to Chatwing Team, this feature is useful for student bloggers who want to learn more about certain topics. Whenever students are confused, they can just review the information given in the chat box. The feature is also helpful for website owners specializing in tutorials of all kinds.
Whenever a Chatwing admin forgets about a specific message that can be crucial, he can just scroll in the chatroom and check out the past messages. This is done in real-time, so no amount of time is wasted at all. Along with this feature, the chat app can also be modified according to the preferences of the admin. Different color schemes can be set from scratch, and there are also many background images available.
Recently, the Chatwing Team has added a chat network feature that links the chatroom of the admin to other chatrooms. This can be accomplished in the dashboard, wherein the admin can select from the available groups or networks. With many chatrooms linked, information can travel fast, benefiting both website owner and visitor.
About Chatwing.com
Chatwing.com specializes in the new field of website chat. Over years, the Chatwing team has introduced live chat widget for hundreds and thousands of blogs. The Chatwing application bridges people from many parts of the world, creating global synergy through the Internet. The shout box can be installed in just seconds, and it can be used for varying purposes such as leisure and Internet marketing. It also allows a user to customize the size, color, and name of the widget.