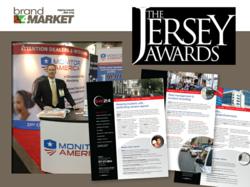 ...holding my own in competition against entire creative teams for copywriting, concepts and design is a notable personal achievement.
Columbia, NJ (PRWEB) June 17, 2013
Brand4Market President Wendy Flanagan was honored on Thursday, June 6th 2013 by the New Jersey Advertising Club (NJAdClub), receiving two Jersey Awards for work with clients SecureWatch24 and Monitor America. The event, held at the Palisadium in Cliffside Park, NJ, welcomed 300 guests to celebrate creativity in 113 categories. Flanagan was accompanied by Robert Ryan, President of CMYK Printing, Saddlebrook, NJ, the company that has printed thousands of SecureWatch24 sell sheets over the past two years.
Said Flanagan, "The Jersey Awards are a fantastic way to be recognized for my work. Since I am a one-person 'agency', holding my own in competition against entire creative teams for copywriting, concepts and design is a notable personal achievement."
Flanagan was recognized for the design and content of sell sheets created for SecureWatch24 and for a 10' pop-up trade show booth created for Monitor America.
Flanagan works with Monitor America CMO and SecureWatch24 SVP Sales and CMO, Jay Stuck.
Noted Stuck, "SecureWatch24 and Monitor America are bringing new, advanced video security products and monitoring solutions to New York and New Jersey. Wendy and I have over two decades of working together and we continue to demonstrate results time and again."
About NJAdClub
The NJ Ad Club promotes industry resources, creates a dialog on issues of importance to the advertising community, helps members develop new skills, provides opportunities for business relationships, and reaches advertising and marketing decision makers at New Jersey-based companies.
About SW24
SW24 is a recognized leader in technology-based security services. Offering a holistic security solution to its customers, SW24 specializes in property protection and management utilizing 24/7 enterprise class integrated video surveillance, video streaming and analytics, wireless monitoring, license plate recognition, access management and home intrusion prevention and detection systems. SW24 also offers its clients a wide range of additional services, including armed and unarmed guards, criminal and civil investigations, business continuity consulting and criminal event management. Headquartered in midtown Manhattan, SW24's team of professionals includes decorated veterans of the New York City Police and Fire Departments. SW24 also maintains a state of the art national monitoring and operations facility called the Fusion Centre. http://www.sw24.com
About Brand4Market
Brand4Market President Wendy Flanagan offers contract-based marketing consulting services based on two decades agency experience. Her offerings include: marketing strategy, marketing plans, branding, logo design, graphic design, copywriting, collateral development and management, direct marketing, email marketing, CRM, CMS, marketing automation, social media marketing, event management, B2B advertising, SEO and PPC.
About CMYK Printing
Headquartered in Englewood, NJ, CMYK Printing provides superior customer service while delivering products that exceed expectations with total attention to every detail. Our team of professionals - with many years of printing experience - are best prepared to provide our clients with the results they are looking to achieve.