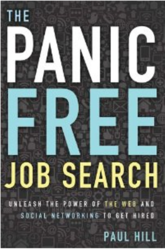 If people get this book, read it and follow the step by step advice, they will get hired
Toronto, Canada (PRWEB) June 18, 2013
A best selling job search book is now available at a cut rate price due to the generous contribution from an American benefactor who chooses to remain anonymous. The best selling job hunting book, The Panic Free Job Search, Unleash the Power of the Web and Social Networking to Get Hired by author Paul Hill, published by Career Press in NJ, is now on sale at Amazon and Amazon in Canada for a limited time.
"If people get this book, read it and follow the step by step advice, they will get hired" said the philanthropist from New York City. "The new revolution is one of connection. Stepping-up and picking yourself first is a must. And all it takes is the guts to put your ideas out there, and be remarkable. This book will show you how to do it all."
"Resumes are barriers to entry for many and especially for the long term unemployed. You need tactics that will open the door and give you an audience with decision makers. Only then can you show them what you can do for them, their team, division or company" said Hill. "Resumes are limited to describing what you have done. Credentials and knowledge are not good enough today to make a job hunter remarkable in the eyes of an employer. You need to be able to demonstrate what you can do with the knowledge. You need to be remarkable and the best way to do that is to get an audience with a decision maker or attract a decision maker to your knowledge through your professional reputation online or professional brand online."
The premise of the book is to break the endless cycle of "career gambling" by applying to jobs online, hoping that an employer will pick the job hunter through judicious resume writing. The author demonstrates the folly of this approach and how job hunters end up settling for what is available to them rather than getting what they truly want if anything at all. The book gives a foolproof step-by-step method and process based around a concept called SMARTSearch.
"I was surprised when I was approached with the offer to subsidize the sale of my book so I can offer it at a discount to more people in need. It is a real shot in the arm for my book to be recognized like this and for the opportunity to bring it to more job hunters who are struggling and need the advice" said Paul Hill, Job Search Expert and Chief Instructor at Transition to Hired.
For a limited time, to obtain a copy of The Panic Free Job Search at 70% OFF the cover price go to Amazon.com or click here. and use this link. In Canada, to get over 70% OFF the cover price of the book click here.
When asked why the book is not available for free, Hill responded "People have to be willing to invest in themselves and this way we can stretch out the gift and bring the book to more people."
Transition to Hired and Paul Hill
Transition to Hired, a division of ADV Advanced Technical Services Inc., is dedicated to providing leading edge job search and career coaching services including the groundbreaking 'The Ultimate Job Search Boot Camp' and innovative products that facilitate the job search process and get professionals hired. Paul Hill has dedicated over 25 years of his career to helping professionals get hired, and is the author of The Panic Free Job Search: Unleash the Power of the Web and Social Networking to Get Hired. For more information go to TransitiontoHired.com and follow Paul Hill on twitter @GetHiredFastTrk