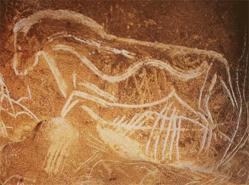 The Tree of Life will bloom and people will know the true facts!
New Haven, CT (PRWEB) June 17, 2013
The Visionary Nicholas Black Elk's prophecy that "the Tree of Life will bloom" appears to be coming true--with help from a 37,000 year old Shaman. This earliest known Shaman painted his Visions in UNESCO Chauvet Cave in Southeastern France. The graphic stories and Visions are the same Black Elk told of the Creator, Wakan Takan/Thunderhorse, including a Creation Mural, a Flood Epic, evidence of sacrifices, Cherubim, a rainbow, and much more. Profound confirmation of the spirit world. This story may invigorate and revitalize the Indian Nation to lead the way--uniting all in the world peace, Black Elk promised.
Sir Knight Daryl Nicholas Breese and French Canadian--Gerald D'Aoust did the simple translations of this cave art. They both experienced the same Visions as Black Elk and the first Shaman. Their book, "God's Steed- Key to World Peace" documents 144 other Shamans and Holy People who have ascended to Heaven and also seen the Four Legged Horse of God. Black Elk said, "the true facts" of these Visions are unchanging, and every Holy Book shares these stories.
Black Elk and the First Shaman felt compelled to spread the news of the Great Spirit in all and to help bloom the Tree of Life--bringing paradise back to earth. The short "Black Elk's Tree of Life is Blooming!" video is on YouTube. It shows the First Shaman's Chauvet Cave graphics and the stories connected down through history to Black Elk.
Will Nicholas Black Elk's Tree of Life bloom?