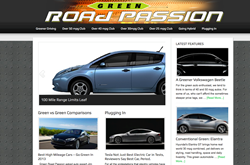 For all the protestations that electric vehicles have not matured enough for the mainstream, the Tesla Model S gives luxury car buyers a green option with no compromises.
Toronto, Ontario (PRWEB) June 15, 2013
In this week's Green Road Passion, we focus on the full EV, the electric vehicle, reviewing both the luxury Model S from Tesla and the Nissan Leaf, designed for the urban commuter:
"Tesla Not Just Best Electric Car in Tests, Reviewers Say Best Car, Period."
For all the protestations that electric vehicles have not matured enough for the mainstream, the Tesla Model S gives luxury car buyers a green option with no compromises. The Tesla gives hope to the average car owner in future, where current options are hampered by limited range. The Tesla Model S delivers range similar to a full tank of a gas in a gas-powered car. Since successful luxury cars often roadmap technologies that make their way into the broader markets, we can hope for a high-range EV for the mainstream market. Lexus pioneered many technologies now found on Toyotas, and Toyota's partnership with Tesla is a promising signal.
Electric cars are everywhere and for good reason. Depleting natural resources have necessitated the use of alternative fuels and while cultivating bio-ethanol sources, opting for natural gas or even hydrogen power seem like the natural route, they aren't as feasible or cost-effective as many may imagine. That's the reason electric vehicles arrived, and survived. Of course, their survival was solely due to their evolution and it is because of persistent creators like Tesla that we have electric cars like the Model S. Read more…
"100 Mile Range Limits Nissan Leaf"
The Nissan Leaf costs $743.45 to run monthly over 48 months, quite a bit higher than a conventional car, with gas cost included. With a limited range of 100 miles, the Leaf still is the ideal car for urbanites who commute short distances and who care sincerely about carbon emissions.
The Nissan Leaf has been called, by Nissan, the affordable, no-emission car. Granted it brings home the future-appeal, with swoopy 22nd century good-looks, and plenty of flash and gizmos inside. And, unlike hybrids and plug-in hybrids, this is pure electric car for the "masses"—assuming the masses live in the city, don't travel too far per charge, and have some bucks to invest. Read more…
About Green Road Passion Magazine
Green Road Passion Magazine is passionately dedicated to driving the greener way. The editorial mission states "We believe that road passion does not just mean the thrill of speed and the open road, the joy of the journey—we are convinced that this joy must be guilt free to be really rewarding. With green driving, and green choices, we need not feel guilty about a thrilling trip across the nation, or a weekend jaunt to the hills. Green Driving makes driving fun again, removing the guilt that comes along with carbon emissions."
Each month we cover

Green Driving Tips
Driving Further: True Passion for the Open Road
Full Electric Vehicles
Hybrid Vehicles
Reviews and Road tests of vehicles in four classes: 50 miles per gallon plus; 40 miles per gallon plus; 30 miles per gallon plus; 25 miles per gallon plus (typically reserved for utility vehicles with high mileage).
At Green Road Passion, we dream about a sustainable future, where road passion is not extinct. We don't believe the answer to environmental issues is to give up the necessity and pleasure of driving. We believe no-emissions is viable for mainstream transportation in the near future, at affordable prices. Read along with us as we report on the latest technologies in Greener Driving.
Green Road Passion is a publication of Zines Online, a service of Persona Corp.