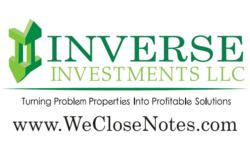 This event both leverages and fosters relationships between coaching students and investors across the country to take more property down.
-Scott Carson
San Antonio, TX (PRWEB) June 16, 2013
Scott Carson, President and CEO of Inverse Investments says, "The Note Buying Mastermind addresses the true level of success and demand we are experiencing in this industry right now. We needed to help our students and investors accelerate processes and take advantage of these properties now."
Inverse Investments is expecting hedge fund managers, note servicing companies and note buying students along with other service providers to be in attendance.
When asked what would take place during the mastermind Carson said, "This event both leverages and fosters relationships between coaching students and investors across the country to take more product down". When Carson refers to product, he is referring to the discounted real estate property notes he, his company (Inverse Investments) and his note buying students purchase.
In 2012 Scott Carson paid $20MM for $50MM in assets. In any given week Carson and his students will look at 10-20 property portfolios. Carson and his team then may purchase all of the properties, do a "carve-out" purchasing a portion of the properties or they may pass on them all. They are presently working with five note pools in Florida where the investors can expect to double their money.
With impressive numbers like these one might be led to believe money is the only motive. This couldn't be further from the truth. Scott Carson utilizes the boutique style set-up of a smaller company to allow them to execute more exit strategies than most of the larger companies holding property notes. With more exit strategies he helps a number of people with many types of predicaments.
In addition to the Note Buying Mastermind, Scott Carson is expected to announce creating a nationwide online note exchange for investors looking to buy notes and to give hedge funds and note sellers a place to list their notes available for sale. Along with this, Carson will also be releasing information in the near future on the creation of a $50 million private placement offering for his company and students. He is also in the process of launching his first book based on his and his students success over the past few years and to help guide new investors along the way as well.
Written by Samuel Sadler elleven group