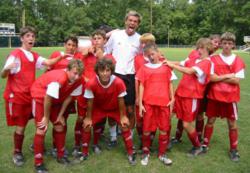 With three sessions this year as well as overnight and commuter options, campers will be able to design the soccer camp training program that's just right for them
New Orleans, LA (PRWEB) June 17, 2013
Eurotech Soccer World, the premier provider of youth soccer training systems in North America has announced its Louisiana soccer camps schedule for 2013.
Eurotech Soccer Academy is entering its 14th year of running soccer camps in Louisiana. The tradition started at soccer powerhouse St. Paul's School in Covington on the "North Shore" and when they decided to convert the campus to a day school in 2006, Eurotech moved its camp to "Cajun Country" and Nicholls State University to stay as close to their loyal following as possible. Women's Soccer at Division 1 Nicholls State University is also making a comeback with new Head Coach and Eurotech Regional Director, Dylan Harrison at the helm. "Dylan is a Louisiana native and we are excited to have him on the team! Eurotech and NSU are both known for their great programs and we believe NSU to be one of the top facilities hosting our camp program each summer," said Jim Risher National Director of Eurotech Soccer World. The campus is already home to other National Camps such as the Peyton Manning Football Passing Academy. A main feature of the NSU campus is its multi-million dollar facelift which is an ongoing project benefiting Eurotech campers since our first year on campus in 2007.
Eurotech's New Orleans Soccer Camps 2013 schedule is as follows:
The New Orleans Louisiana area Eurotech Soccer Camps will be held at Nicholls State University in Thibodaux from July 21, 2013 to July 27, 2013 and will offer 3 sessions, including 2 combo sessions. Eurotech's boys and girls soccer camps have something for every position from Striker to Goalkeeper. Eurotech sessions at Thibodaux, Louisiana will include a Goalkeeper Academy, a Striker School, and sessions focusing on individual techniques and tactics. "With three sessions this year as well as overnight and commuter options, campers will be able to design the soccer camp training program that's just right for them," said Jim Risher National Director, Eurotech Soccer World.
Looking to save a little money on your 2013 camp tuition? Eurotech Soccer World has several discounts available including a returning Eurotech Soccer World camper discount, a family discount, team discounts and refer-a-friend discounts all for a limited time.
About Eurotech Soccer World
Eurotech Soccer has built its 23 year-old training system around a European training philosophy starting with the finest International and National youth soccer coaches. Eurotech Soccer coaches include national, collegiate and international directors and include national team, Olympic, college, professional coaches and players from some of the finest International clubs and leagues in the world.