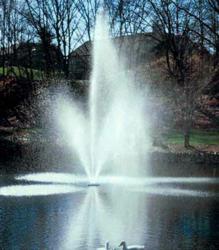 Santa Maria, CA (PRWEB) June 16, 2013
Fountain Mountain, Inc., a corporation located in Santa Maria, California, has now shipped over 20,000 packages via UPS. This does not count large fountains dropshipped for the company from Wisconsin or USPS shipments.
Though some packages contain only one item, most packages contain 12-30 pumps or up to 50 light kits.
"We're no Amazon," says Michael Guista, president of the company, whose brand is Fountain Tech pumps and lights. "But we have a very skinny niche market. We specialize, and that's the way I like it."
The company has been selling fountain pumps and lights since 1999, but did not form its own brand until 2006. Pumps are for indoors and outdoors and pump between 40 and 8000 gallons per hour. In keeping with its green philosophy, the pumps are low-energy ones and nearly all light kits are LED.
Beginning in April. Fountain Mountain has been donated a percentage of sales to CEERT. Founded iin Sacramento, California in 1990, The Center for Energy Efficiency and Renewable Technologies (CEERT) utilizes the team efforts of economists, scientists, lawyers, entrepreneurs and other groups to change policies and foster renewable resources. Mr. Guista says that beginning April 1, a portion of all sales of fountain and pond pumps, floating fountains, and LED lights will be donated to CEERT.