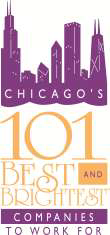 Our 2013 winners create their human resource standards to ensure employee satisfaction, and they set standards for every business to aspire toward
Chicago, IL (PRWEB) June 18, 2013
PLS Financial Services, Inc., has been named to the 2013 list of the "101 Best and Brightest Companies to Work for in Chicago," compiled by the National Association for Business Resources.
This year's Best and Brightest honorees are companies that develop innovative strategies representing best practices in human resources throughout a wide range of industries.
The selection of the 101 winning companies for 2013 is a result of the findings of an independent research firm that evaluates each company's entry based on key measures in such categories as compensation, benefits and employee solutions; communication and shared vision; community initiatives; diversity and inclusion; employee achievement and recognition; employee education and development; employee enrichment, engagement and retention; recruitment, selection and orientation; strategic company performance; and work-life balance.
PLS (http://www.PLShome.com) is one of America's most successful and fastest-growing consumer financial services retailers. The company is transforming the industry through its singular combination of affordably priced financial services delivered with exceptional customer service. The reason PLS exists can be simply stated: Why PLS? Because You Deserve Better!® That's the promise the company makes to customers, communities and employees.
"Profitability and stability are essential for businesses in today's economic climate," noted Jennifer Kluge, NABR president. "Companies that recognize that their employees are the key to their success achieve staying power. Our 2013 winners create their human resource standards to ensure employee satisfaction, and they set standards for every business to aspire toward. We're proud to honor this year's winners."
"PLS is honored to be named to this prestigious list," said Art Sanders, VP, Human Resources, PLS. "PLS is an outstanding company to work with because we believe all our employees deserve better. We are passionate about offering our team members a better work environment, better career opportunities and a better work-life balance, all of which translates into better service for our customers.
"This recognition is especially gratifying because a key component of the selection criteria was based on responses from employee surveys distributed to all levels of the organization," continued Sanders. "We are very proud our team members have affirmed they enjoy working at PLS and the direction we are taking with our strategic HR initiatives."
About PLS: People. Location. Service.
The PLS Group, headquartered in Chicago, operates or manages nearly 400 financial services centers in markets that span the U.S. from California to New York. PLS, with nearly 4,000 employees, has annual revenue that exceeds $250 million.
PLS is ranked among the Top 100 Job-Creating Companies in the U.S. by Inc. magazine (http://www.inc.com/hire-power/list), and is listed among Inc.'s 5000 Fastest-Growing Private Companies in America (http://www.inc.com/inc5000/list). The company has been named one of the 101 Best and Brightest Companies to Work for in Chicago by the National Association for Business Resources (http://www.101bestandbrightest.com). PLS is ranked as one of Chicago's Largest Privately Held Companies by Crain's Chicago Business (http://www.chicagobusiness.com), and was listed among Crain's Fast 50. Bob and Dan Wolfberg, PLS Presidents, were finalists for Ernst & Young's 2010 Entrepreneur of the Year Award (http://www.ey.com). In 2011, Bob Wolfberg was recognized by Financial Service Centers of America [FiSCA (http://www.fisca.org)] as its Financial Service Provider of the Year. The company has also been honored with the Activa Award from FiSCA three times in recognition of its charitable efforts.
The PLS Group serves customers through its PLS Check Cashers stores, which offer check cashing, prepaid Visa® debit cards, money transfer services, direct deposit services, money orders and bill payments; PLS Loan Store locations, which provide consumer short-term loans, auto insurance and tax-preparation services; and PLS Motor Vehicle Services facilities, which offer vehicle license and registration services.
About the National Association for Business Resources
The National Association for Business Resources (NABR) advocates and represents small and medium-sized businesses throughout the United States. NABR specializes in providing businesses the benefits, programs, services, and assistance required to operate as efficiently and successfully as possible. Best practice solutions are available to members in the areas of human resources, healthcare, legal, transaction, compliance, marketing and office services. For more information about NABR and its offerings, please visit http://www.nationalbiz.org or call 1-866-321-1822.