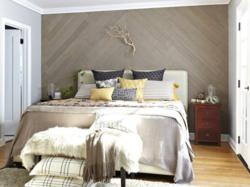 A wood accent wall was just the solution to add a rustic, modern touch in this Spanish-style home.
Sacramento, CA (PRWEB) June 19, 2013
Stikwood is a 100% real wood DIY product, 100% recyclable, and manufactured in the USA. Most commonly used on walls, Stikwood has gained its acclaimed reputation by completely transforming a room with its peel and stick application.
Chevron pattern is a bold pattern that makes a really strong impact on a room. It's essentially a series of V's laid out in a row. In the design world, the chevron pattern has grown rapidly in popularity. The V-shaped design is most commonly used as an accent. Laurie March took accent to a whole new level by installing Stikwood in a diagonal pattern with 45 degree cuts to create this stunning wood wall. March shows homeowners step by step how to achieve this look in a simple tutorial for anyone who wants to jump aboard the chevron train.