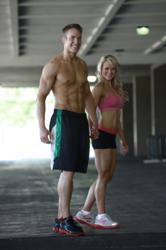 something magical happens when an individual achieves sustainable fitness goals and alters his or her lifestyle to maintain that plateau.
(PRWEB) June 18, 2013
Studies have shown that in the competitive employment market, the appearance of health and wellness adds dollars to one's salary and benefits to overall reimbursement packages. Not to mention, everyone wants to look and feel their best. But appearance must be supported by real action, and most of us are tired at the end of busy days. Workout Anywhere by RundleFit addresses this dilemma with revolutionary home workouts (anywhere workouts) and a full fitness, nutrition and wellness program. In addition to their proven program, they are adding positive incentives for those who wish to build a healthy lifestyle. This is called the Six-Week jumpstart to Positive Incentive program and is open to health minded brands wishing to get involved with the formation of healthy lifestyles.
Justin and Jessica Rundle (team RundleFit), fitness models, personal trainers, and CrossFit competitors jumpstart healthy lifestyles with 15 to 30 minute home workouts (anywhere workouts: outdoors, hotel room, lunch break) and routines designed to get you moving with the least inconvenience. You choose the intensity of your workout from the comfort of your home, or while at work. This is supported from easily accessible online, mobile friendly formats that focus on metabolic conditioning, total body strength training, core training, flexibility and overall fitness. Every workout is perfectly scaled for true beginners to the most advanced athlete.
From years of training high school athletes, collegiate athletes, military personnel, firefighters, police officers and adults with every fitness level and goal imaginable, Justin and Jessica have honed routines scaled both for abilities and goals. For $9.95 per month, Workout Anywhere puts members through all-level regimens available on mobile technology, for whenever one can plug exercise into their busy lifestyle. Even better, workouts are easy to follow with video presentations changed weekly, along with meal plans, recipes, challenges, articles, moral support, and questions and answers. Workout Anywhere's team RundleFit knows that home workouts are just a piece of the healthy lifestyles puzzle and that is why their well-rounded fitness community addresses every dynamic necessity for making healthy a lifestyle.
Team RundleFit knows personally the struggle of weight loss. Being able to jumpstart healthy lifestyles comes from being no stranger to yo-yo weight gain and loss along the course of demanding fitness regimens. It has been difficult to confront diet realities and "just say no" to temptations like cake, cookies, and ice cream. Justin and Jessica personally understand that healthy lifestyles begin in the kitchen. Consequently, they are ideally suited to counsel members to achieve "personal bests."
For lack of a better word, something magical happens when an individual achieves sustainable fitness goals and alters his or her lifestyle to maintain that plateau. Everything becomes more promising and upbeat, despite the tough times everyone endures. A healthy lifestyle becomes the capstone to an improved outlook in every faced of one's life. To share in the joy of this epic journey, RundleFit is opening promotional partnering opportunities for their Six-Week Jump Start/Positive Incentive program. Members have the chance to not only improve their health, but also earn prizes too for every milestone met in their journey. Milestones start at six weeks, and run every three months until a year of positive changes has occurred. This provides the appropriate length of time to not only create amazing physical changes, but facilitates a sustainable, healthy lifestyle. For socially responsible, health minded brands who wish to join this incredible experience, contact Justin or Jessica Rundle via the attached information.
Cheers to Your Health!