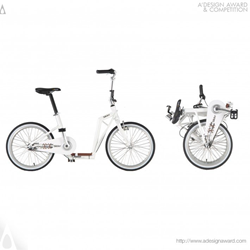 Como, Italy (PRWEB) June 18, 2013
A' Design Award and Competition is happy to announce that the project Slider Folding Bike by Paul Hao Ting Hsu has been acknowledged with the famous Platinum A' Design Award in the Vehicle, Mobility and Transportation Design Category and selected as one of the winners by the international judges of the A' Design Award & Competition among thousands of submissions.
About Slider project
The concept of the Slider is based on the idea of creating a user friendly yet fashionable folding bicycle for women. The main attempt is to develop a better structure that will allow simplification of the bicycle utilization in both normal and folded conditions. This is the main issue that city bike female users request to be updated. As a best solution, Paul Hsu designed the main frame in the shape of diamond that together with principle of the gravitational field equilibrium will significantly decrease time and force applied for bike folding. Actual size of the folded bike is a equal to suitcase dimensions and handlebars can be used to drag it around. Moreover, the unfolding process only takes one movement since the gravity would give strength for further bicycle expanding.
To learn more, please visit: http://www.adesignaward.com/design.php?ID=26513
The Platinum A' Design Award
The Platinum A' Design Award is a prestigious award given to the top 1% percentile of all award winning designs that has performed an exemplary level of perfection. The designs are judged by a panel of three different jury which is composed of Academic, Professional and Focus Group Members. The designs are evaluated with score normalization to remove any biases and are voted on aspects such as functionality, ergonomics, engineering, presentation, innovation, usability, fun details, technology, and any other specific points that could be considered, each of these points are further weighted for different jury groups.
About A' Design Award and Competitions
A' Design Award and Competitions, aims to highlight the excellent qualifications of best designs, design concepts and design oriented products. A' Design Award and Competitions are organised and awarded annually and internationally in multiple categories to reach a wide, design-oriented audience. To learn more visit: http://www.whatisadesignaward.com