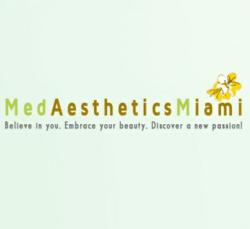 We're delighted to offer a wide range advanced sublative skin rejuvenation treatments from 1st of July, says founer Rosanna Bermejo.
Miami, Florida (PRWEB) June 18, 2013
Med Aesthetics Miami specializes in a wide range of procedures and treatments that will aesthetically make patients look better and get rid of their skin problems, whether it is acne, having pigmentation issues or textural irregularities. Their team of highly qualified doctors has been licensed to carry out special procedures and is highly regarded in their field.
Med Aesthtics Miami have now introduced a new technology to their clinic known as eMatrix, an advanced system by Syneron Candela. The new product support multi-purposes and can be used to treat acne, smooth out fine lines and wrinkles and textural irregularities, and can give the face a clear, smooth and rejuvenated look.
One of the advantages with eMatrix is that it displays state of the art 3D graphics showing patients and doctors how the procedure works and what will actually happen under the skin that patients can't see. The system's ergonomic applicator delivers bi-polar radio frequency energy through a matrix of electrodes of the disposable applicator tip. The RF energy then generates a fractional deep dermal heating in the region of the electrode matrix to induce skin injury which in return ignites a wound healing process. The eMatrix provides effective results and reduces downtime to a minimum. Over 1000 clients in U.S have already used eMatrix for skin rejuvenation and skin tightening treatments with excellent results. Rosanna Bermejo, the founder of the company, decided to introduce the popular technology after repeated requests from clients. The new sublative skin treatments with eMatrix will be available from 1st of July, 2013.
About Med Aesthetics Miami, Inc:
Med Aesthetics Miami, Inc was established by Rosanna Bermejo in 2010. The skin care, beauty and laser treatment company has been created as a result of the desire to help people take care of themselves. Med Aesthetics Miami is licensed for skin care, body treatments, and hair removal services. Dr. Gonzalez Abreu is also part of the team at this beauty treatment clinic. He is certified by the Board of Medicine Examiners in the State of Florida. Follow Med Aesthetics Miami's blog to discover the latest news. The Med Aesthetics Miami clinic can be found at 1321 Northwest 14th Street #603 Miami, FL 33125.