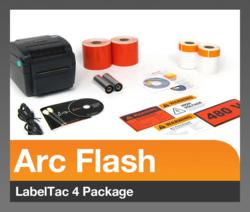 "Labeling electrical components was easy and quick with the help of LabelTac 4 Arc Flash Package. "
Lake Oswego, OR (PRWEB) June 18, 2013
All businesses, small or large, depend on office and production machinery on a daily basis. When machinery is present so is electrical wires and current that could potentially cause arc flash. Simply put, an arc flash is a phenomenon where a flashover of electric current leaves its intended path and travels through the air from one conductor to another, or to ground. The results are often violent and when a human is in close proximity to the arc flash, serious injury and even death can occur. Creative Safety Supply is now offering LabelTac 4 Arc Flash Package that includes everything needed to provide safety in the workplace.
This package will assure personnel, equipment, and property is kept safe with the right knowledge and use of proper precautions. The package contents include a LabelTac 4 Printer, arc flash 3.2 analysis software, orange labels, die-cut orange header labels, and black ribbon. The analysis software will help calculate a facility's electrical system and determine the proper rating for each electrical component. This will save a company time and improve liability responsibilities. Once the analysis is completed, arc flash warning stickers or NFPA 70E standard rating labels can be printed immediately to meet a facility's needs.
Arc flash labels are possibly the best way to protect workers from the threat of electrical hazards. Information provided on the label includes approach boundaries designed to protect employees while working on or near energized equipment. Protective methods are also designated on the label including work permits, personal protective equipment, and insulated tools.
A business owner commented, "Labeling electrical components was easy and quick with the help of LabelTac 4 Arc Flash Package."
For more information about LabelTac 4 Arc Flash Package, please visit Creative Safety Supply or call toll-free at (866)777-1360 to speak with a professional representative who can answer all your questions.