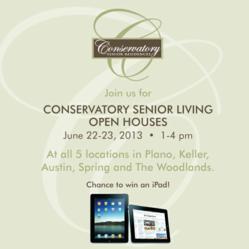 (PRWEB) June 17, 2013
Conservatory Senior Living celebrates its Open House weekend by gifting an iPad to one lucky guest at each of its five Texas locations. Conservatory will hold open its extraordinary senior living community Saturday and Sunday, June 22-23, from 1-4pm. Guests are invited to sample the five-star cuisine, and to tour the extraordinary apartments and grounds, complete with granite and stainless steel kitchens, a 40-seat in-house movie theater, library, game room, pool, veranda, and world-class gym. The knowledgeable concierge staff, personal training team, as well as dedicated staff members will be on hand to answer questions and explain Conservatory's take on personalized service.
Conservatory Senior Living is one of the only communities that actively invests in technology training for residents. Conservatory believes everyone has the capacity to learn new technology, so residents participate in professionally led workshops and classes throughout the year. Seniors who learn to communicate over Facebook or via text messages find themselves far more plugged into family and community life. Conservatory residents even participate in Posit Science, a cutting edge eight-week computer-based program proven to sharpen memory and reflexes.
Conservatory Senior Living encourages everyone to come out to one of its luxurious communities Saturday or Sunday afternoon to discover what resort-style living entails. From the beauty salon and spa, to the pilates classes and personalized Healthcare Concierge, there are lots to discover. And five lucky people will head home with iPads.
For more information about the Conservatory, visit their website.
Conservatory at Alden Bridge
6203 Alden Bridge Drive
The Woodlands, TX 77382
832-510-7537
Conservatory at Champion Forest
8215 Cypresswood Drive
Spring, TX 77379
832-698-9591
Conservatory at Keller Town Center
200 Country Brook Drive
Keller, TX 76248
682-593-2742
Conservatory at Plano
6401 Ohio Drive
Plano, TX 75024
214-556-4530
Conservatory at Wells Branch
14320 Tandem Boulevard
Austin, TX 78728
512-600-1532
### 320 words
Julia Gibson
csl(at)witmergroup(dot)com