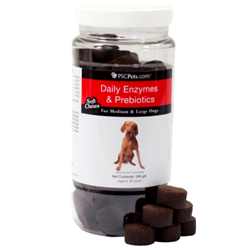 I've tried other brands…and there is no comparison. PSCPets brands are life savers and I am a customer for life.
(PRWEB) June 17, 2013
The digestive system is everyone's first line of defense. It is extremely important to provide optimal conditions for the GI tract's performance in order to benefit overall health. This can be done with probiotics and enzyme supplements.
Introducing PSCPets™ Daily Enzymes & Prebiotics, a herbal pet supplement developed and formulated by the veterinarians and manufactured in USA. This supplement works to support an optimal immune system response in pets by restoring balance to pets' digestive systems.
Enzymes break down complex sugars, process dietary lipids and reduce the amount of carbs converted to fat. Calcium carbonate supports healthy bones and muscles, while ginger (an anti-fungal, anti-viral and anti-inflammatory) calms the gastrointestinal tract and protects against ulcers.
And just what are prebiotics, exactly? They are a non-digestible food ingredient that promotes the growth of beneficial microorganisms in the intestines. Plainly put, prebiotics are nutrients for probiotics. They help provide an environment conducive to maximum probiotic performance. As such, this supplement works best in combination with a probiotic supplement, such as PSCPets™ IntelliFlora.
Pets that benefit from this supplement have been undernourished or malnourished, have experienced digestive upset and excessive gas, or have suffered from unhealthy bowel movements. Customers report that, within a couple of days, this product helps to reduce flatulence and improve bowel movements.
"You don't need to wait a month or even a week to see results [with this product]," reports Brittany, who has been using PSCPets products since 2012. "All my pets love this powder. One of my dogs was starving when we adopted him. Only corn showed up in his stomach x-ray; it really did a number on his digestive tract. I've tried other brands…and there is no comparison. PSCPets brands are life savers and I am a customer for life."
Like many PSCPets brand product customers, Brittany combines this supplement with PSCPets Intelliflora for maximum effectiveness.
Developed by veterinarians, this supplement is manufactured for and sold at ProbioticSmart.com. Create an account for volume pricing and quantity discounts on PSCPets™ brand products. At over 40,000 units sold, PSCPets™ Brand is the fastest growing supplement brand on ProbioticSmart.com.
About ProbioticSmart.com
Launched in 2009, ProbioticSmart.com is a revolutionary site for pet parents who are focused on their own health, as well as the health of their four-legged companions. Established to form a connection with their customers, ProbioticSmart.com offers high-quality products to help keep the whole family healthy. When consumers shop at Probioticsmart.com, they know they will receive trusted products at an affordable price with great customer service. ProbioticSmart.com is a BBB Accredited Business, PayPal verified and SSL Secured via GlobalSign so customers know when they check-out, their information will be secure
Knowledgeable customer service reps are standing by to take order inquiries at 888.873.9719. They can also be reached via email at customercare(at)probioticsmart(dot)com.