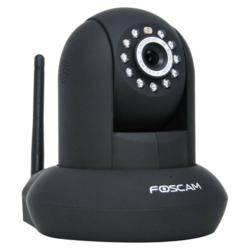 "With affordable home security options, everyone can feel empowered to protect the things they love."
Monroe, NY (PRWEB) June 17, 2013
Before wireless IP cameras entered the mainstream market, homeowners were often left guessing about who may have invaded their space, but recent stories show that the tides are changing; thanks to home security cameras, homeowners not only know what the intruder looks like, but they can actually watch the crime in action.
This deluge of break-in reports caught on camera began on June 5, 2013 with a local news story published on Virginia's NBC12.com about two teens caught trying to break in to a home by a home surveillance camera. They were apparently scared off by the alarm system, and police are investigating whether this incident could be linked to other break-ins in the area. According to the report, Detective Sgt. R. Camacho of the Hopewell Police had this to say about the footage, "It's very nice to have this type of evidence, especially when you don't know who these individuals are."
The following day, Georgia's WTVM broke a story about a vehicle theft caught on a home security camera. In this incident, the vehicle owner estimates a $60,000 loss. Fortunately, the camera did get a clear shot of the suspects' faces. After the incident, the homeowner said this to WTVM reporters,"I'd really like for the citizens of Columbus to be aware of what goes on in our city."
On June 10, 2013, two incidents were reported; one in Florida and another in Colorado. The Colorado incident involved two vandals who threw a rock through a homeowner's window late at night; an occurrence that the neighborhood had come to know too well. When interviewed by Denver's Channel 7 News, the homeowner said, ""I'm glad I got them on video, you know. Hopefully, this video will give the police, the sheriff's department some help."
On the same day, Florida's Wink News reported a story about three burglars who were caught on home security video footage. The thieves tripped the alarm system, but disappeared before police arrived. Fortunately, the incident was recorded. Since the break-in, Wink News reports, the homeowner has called a locksmith and plans to increase her home's security in an effort to keep intruders out.
The most recent of these reports came from Action News on June 15, 2013, in Las Vegas, NV. The suspects reportedly knocked on the homeowner's door earlier in the day and asked for someone who didn't live there. When they returned later that night, there was a struggle and one suspect was shot after he pulled a gun on the homeowner. The other suspect fled the scene, but both were caught on a neighbor's home security camera. American Video and Security specialist Jennifer Tagle told Action News, "We were able to get some footage of the suspects walking by earlier that day and gave a copy of the footage to police."
ObservEye.com specializes in wireless IP cameras and is the main retailer responsible for marketing the Foscam brand of home security cameras to US consumers.
"Footage from wireless IP cameras can lead to the capture of a criminal and recovery of stolen goods," says ObservEye's Director of Marketing Joel Kraus. Joel continues, "Gone are the days when homeowners were left in the dark after a robbery; with affordable home security options, everyone can feel empowered to protect the things they love."
About ObservEye:
ObservEye's three founders started this business with a vision that became their mission; to arm everyone with the tools they need to protect the things they love. Wireless IP cameras were a natural fit for the company because they are designed to do just that. With an IP camera, users can monitor their residences, loved ones and places of business from virtually anywhere with an Internet connection – even from a mobile phone.
Contact:
Joel Kraus
joel(at)observeye(dot)com