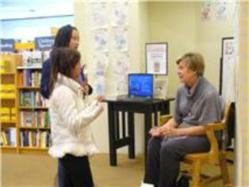 "Your first career can enlighten a new direction."
Massapequa Park, N.y. (PRWEB) June 25, 2013
Frank's hour long interview will explore her passion for mystery writing, and her continued involvement in the field of education which have given her life new horizons and adventure. Frank's career in education, spanning fifty years, sparked her creation of Annie Tillery, her teen sleuth, and junior forensic scientist. She hopes to encourage girls to pursue careers in science after reading about Annie's adventures. Her commitment to education is the motivation for developing lesson plans based on her books. Besides encouraging reading, giving insights into history, and exploring science, the books are just pure fun.
Frank has developed and currently produces "The Writer's Dream", a local access TV program, showcasing other authors and helping her to market her own books and projects.
Frank claims the new careers of authorship and TV producer have encompassed so many aspects of her life, and opened new doors and new friendships.
Naomi Joy interviews Long Islanders who continue to embrace life, finding passions that make them fulfilled, productive, and in the swing of things. "Your first career can enlighten a new direction." Naomi Joy, using her program, NJoYLife, explores the roads traveled by those adventurous enough to explore those new directions.
The show airs on NCFM, 88.1FM, on July 3, from 11AM to 12 Noon.
About Linda Maria Frank:
After many years in the teaching profession, Linda Maria Frank, the author of Annie Tillery Mysteries, has launched a new career. Inspired by a childhood passion for the Nancy Drew series and the popular television series, CSI, she successfully married an appealing heroine (Annie Tillery) with gripping story plots to create these new fiction books for mystery readers.
"The Madonna Ghost" has earned the distinctive "Editor's Choice" and "Rising Star" awards. "Girl with Pencil, Drawing, the second book in the series, ramps up the adventure and suspense. Annie stays one step ahead of the bad guys by the skin of her teeth.
Annie Tillery Mysteries are available as paperback, e-book and digital audio.
Current projects include: Tales2Inspire with Lois W. Stern, a writing contest leading to a marketing platform, events coordinator for LongIslandAuthorsGroup and, feature writer for Guppies, the Sisters in Crime Newsletter.
She is featured in the VIP section of Covingtons Who's Who.