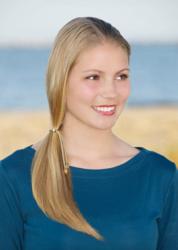 Nordstrom is a perfect partner for our brand
New York, NY (PRWEB) June 28, 2013
Pulleez International announced today that its coveted ponytail accessories will launch at Nordstrom stores and online in July.
"Nordstrom is a perfect partner for our brand," said Diana Wright, Pulleez's creator. "The Nordstrom customer is not only fashionable but looks to the store for modernized and beautiful ways to accessorize."
A former fashion week producer, Wright originally created Pulleez ponytail holders to hold model's up hair backstage without leaving behind a crease. Her creations quickly became popular on the runway as well.
Pulleez have been featured on NBC's "Today Show" and is favorited by celebrities including Kelly Bensimon and Miss USA.
Nordstrom will roll out Pulleez in 53 stores nationwide. The product will also be available on http://www.nordstrom.com.