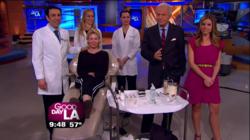 Los Angeles (PRWEB) June 17, 2013
According to a June 11, 2013 ABC News article, titled "15 Confusing Sunscreen Questions Answered," as more and more information surfaces about the negative effects of sun on the skin, sunscreen should become a vital part of one's skin care routine, as the sun's rays can cause premature aging and cancer (Go to goo.gl/qTKZQ).
"I agree with the article's suggestions for the best way to apply sunscreen," says Dr. Simon Ourian, Medical Director of Epione Beverly Hills. "Apply a minimum of SPF 30, twenty minutes before going outside. One must reapply the product every two hours in order to get maximum protection. Use at least 1 oz. of sunscreen to coat your body."
According to the article, SPF, or sun protection factor, ranges from low to high. Some manufacturers have marketed products with an SPF of 100 or more. However, the maximum protection possible is no higher than SPF 50. The FDA is considering a rule proposal that would cap SPF labeling at 50+.
The article suggests that it is always wise to take extra measures to avoid sun exposure. The best protection is to minimize sun exposure and wearing protective clothing, sunglasses, and hats. Many athletic clothing brands now sell special SPF clothing that offers sun protection.
Finally the report notes, despite claims that some brands of sunscreen are waterproof, there is no such thing as a "sports" formula and no sunscreen is totally water resistant. The average "waterproof" product will offer protection for approximately 80 minutes of sun exposure after getting wet.
"As stated in the article," says Dr. Ourian, "skin cancer survivors need to be extra careful about sun exposure as they are much more likely to develop a second skin cancer."
Dr. Ourian has been a pioneer in laser technology and non-invasive aesthetic procedures including Restylane, Juvéderm, Radiesse and Sculptra. These treatments are used for the correction or reversal of a variety of conditions such as acne, acne scars, skin discoloration, wrinkles, stretch marks, varicose veins, cellulite, and others. More information about the benefits of sunscreen can be found on Epione's website.