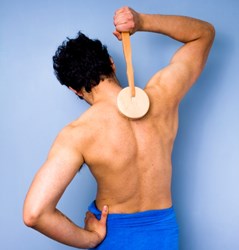 St. Petersburg, FL (PRWEB) June 18, 2013
The timeless art of Skin Brushing has been lost in recent times but is making a comeback, says Sublime Beauty®. Why? Because the simple act of dry brushing the skin and the simple tool of a skin brush can contribute strongly to overall general health.
The skin eliminates about 1/3 of bodily toxins per day, but as we age, the skin is less able to throw off these dead cells and toxins. This can put stress on other organs, contribute to poor skin quality and bring down well-being. Dry body brushing each day will detox the skin while invigorating the body.
But there is more. Skin Brushing boosts the circulatory system, and the circulatory system is incredibly important to good health. Blood flows through the body delivering oxygen and nutrients to all tissues in the body. Capillaries take away waste products produced from cell metabolism. Blood circulates through your body about three times every minute. Without good blood circulation, our health is not optimized. Energy levels and vitality, brain function, immune response and the entire state of well being - and even longevity - are affected.
Skin Brushing helps boost blood circulation. This was taught by Hippocrates at the medical school in Athens and on through the ages. Skin brushing should ALWAYS be done in the direction of the heart, aiding and enhancing the flow of blood.
Tips on proper Skin Brushing:
1) Always brush on absolutely dry skin.
2) Always brush in the direction of the heart.
3) Typically start at the feet and brush upwards - brush everything except your face.
4) Use medium strokes that are firm but should not hurt.
5) Spend 3 to 5 minutes on brushing, though some people like to take longer and brush more.
6) It is practical to brush in the shower (BEFORE taking the shower) so that dead cells can be washed away when you are done.
7) Use a natural bristled brush with a long handle, such as the one Sublime Beauty chose for its clients.
"We send a brochure about skin brushing to each purchaser," says Kathy Heshelow, founder of Sublime Beauty®. "It comes as a downloadable link in an email 24 hours after the skin brush is shipped. We wanted to share some history and tips about the amazing benefits of skin brushing." A new website covers Skin Brushing.
There are other great benefits to Skin Brushing, too, such as support of the lymphatic system, cellulite management and stress-busting. "We want everyone to think of Skin Brushing like brushing their teeth - essential to do every day! It is very easy to work into a daily regime," says Heshelow.