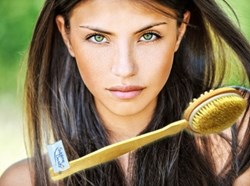 Sublime Beauty® wants Skin Brushing to make a resurgence. The health benefits are amazing, all for under $20.
St. Petersburg, FL (PRWEB) June 27, 2013
Sublime Beauty® wants Skin Brushing to make a resurgence. It has been practiced through the ages (Ancient Greece, Egypt, Ayurvedic India and even in American Indian cultures) up through the early 1900s in the U.S. But it fell away from common knowledge. Some circles of health conscious people as well as models and celebrities practice Skin Brushing today, but Sublime Beauty® wants everyone to know about it.
Why? "Skin Brushing is incredibly simple, it helps our skin quality and functioning, it boosts blood circulation, it supports the lymphatic system, it keeps cellulite at bay, and it's a great stress controller," says Kathy Heshelow, founder of Sublime Beauty® who dry brushes her skin each morning. "We want people to think of it as automatically as brushing their teeth each morning." A new video highlights three top benefits of Skin Brushing.
What is Skin Brushing, also known as Dry Skin Brushing or Body Brushing? Skin Brushing is the act of brushing absolutely dry skin with a natural bristled brush, ALWAYS in the direction of the heart. The skin is the largest organ of elimination, and people actually shed as much as 40,000 cells per minute according to a scientific study by National Geographic.
As aging occurs, the ability to throw off these dead cells and toxins decreases, and this can cause stress on other organs of elimination, on overall health and on skin quality. Dry skin brushing can remove these cells and allow the skin to function as it should. Plus skin will glow and look healthier.
The new video highlights other benefits.For instance, Skin Brushing will boost blood circulation, essential to good health. During the aging process, circulation can decrease. Yet blood delivers nutrients and essential oxygen for optimal health.
In addition, the lymphatic system, so important in removing toxins from the body, will also be assisted by Skin Brushing. The lymphatic system has no natural pump (such as the heart pumps blood), and it relies on such things as muscle movement, massage and Skin Brushing.
Sublime Beauty® has a website dedicated to Skin Brushing and sends a six-page brochure to those who purchase the Skin Brush. The company found the ideal brush. It has a long wooden handle that allows reach everywhere with ease; it has natural bristles; and it actually has a dual head for massage (for cellulite treatments, for instance.) "For less than $16, you can impact your health today and every day going forward," says Heshelow.
"We hope to spread the message about Skin Brushing widely, and hope those who read this press release will share it with others, too," says Heshelow. "The video is helpful to share as well."