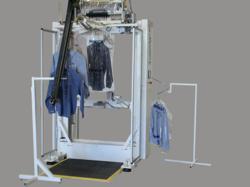 Homer, MI (PRWEB) June 17, 2013
Rennco, a brand of Pro Mach, is pleased to announce their newest bagging system for the Dry Cleaning and Uniform Industry.
The Garment Guard(TM) unit is a wrapping/bagging machine that automatically packs single or multiple garments into a poly bag. The system can be used as a standalone unit or integrates with upstream and downstream conveyance systems in the dry cleaning and laundry facilities.
This Garment Guard bagging system is manufactured at our facility in Homer, Michigan, USA. The system utilizes stock tubing material and is a fully automatic system that will sense the incoming garment size to make the appropriate size bag around the laundered/ironed items. Once the bag is produced the system releases the item to the operator or to an outfeed conveyance system.
Come see the newest addition to the line of Rennco packaging machinery at booth #1903 at the Clean Show in New Orleans, Louisiana at the Morial Convention Center starting on June 20, 2013.