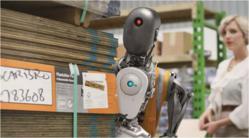 This is the second time James Cunningham and the students at Media Design School have interpreted my work into short films
Auckland, New Zealand (PRWEB) June 17, 2013
The news comes hot on the heels of three epic wins at the Los Angeles Movie Awards - Best Animated Film, Best Director and Best Animated Characters.
"The entire Media Design School team and all of the 3D Animation & Visual Effects students who worked on Shelved are beyond thrilled with the success of this short film in the competitive US marketplace. We have created something original, which stands out from the crowd and puts New Zealand's raw talent and innovative approach to storytelling on show for the world to see," said Media Design School CEO Frances Valintine.
Weta's Greg Broadmore was behind the original robot concepts for the film and is thrilled with how well it has been received.
"This is the second time James Cunningham and the students at Media Design School have interpreted my work into short films, and it's incredibly inspiring to see the results - it's got to be really encouraging for New Zealand's film and game industries to know that there are such great up and coming talents being fostered by people like James," said Greg.
In 2011, Broadmore gave Media Design school permission to bring his cult comic book characters to life in short film Dr Grordbort Presents: The Deadliest Game.
You can watch Shelved, Dr Grordbort Presents: The Deadliest Game and many other Media Design School videos.
About Media Design School
Media Design School is New Zealand's most-awarded private tertiary institution and distinguished by its close alignment to industry. The Auckland-based school offers specialist degrees for emerging creative industries including Bachelor of Art and Design (3D Animation and Visual Effects), Bachelor of Creative Technologies (Game Art), Bachelor of Software Engineering (Game Programming) and Bachelor of Media Design. A range of foundation diplomas and graduate qualifications are also available. Media Design School is part of Laureate International Universities, the world's largest private university group with over 65 universities in 29 countries, including dedicated design schools in San Diego, California, and Santa Fe, New Mexico, USA; Berlin and Hamburg, Germany; and Milan, Italy.