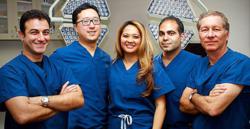 Our new hemorrhoids website is dedicated to our patients throughout Los Angeles. It is our hope that our new website answers many of your most frequently asked questions.
BEVERLY HILLS, CALIFORNIA (PRWEB) June 17, 2013
By launching a new patient education website (http://www.lahemorrhoids.com) dedicated to Los Angeles hemorrhoids treatment and prevention, the doctors at Los Angeles Colon and Rectal Surgical Associates have again taken steps to improve the public's knowledge about this common condition. The purpose is to provide easily understandable information for the education of patients in Los Angeles, Beverly Hills, and Santa Monica. However, it is not designed to replace the expertise and advice that is given by a professional colorectal surgeon during a personal consultation.
Although hemorrhoids are not a life-threatening condition, they are often painful, and many patients would wish to eliminate existing hemorrhoids and prevent them from recurring in the future. The new website from the colon surgeons at LACSRA helps to address these issues, which are the primary concerns of many hemorrhoid sufferers. Due to the embarrassing nature of the condition, many people are reluctant to see a doctor initially, and it can be difficult to find reliable sources of information.
There are several different sections to this new site, each quickly accessible using the clearly labeled links on the menu. Dr. Hoffman was recently quoted as saying, "For those who live in Los Angeles, hemorrhoid complications are a problem that you do not need to live with alone. We are here to help and provide a cure to this tough condition." The website is dedicated to haemorrhoid issues, symptoms, diagnosis, or treatment, as well as finding out what they are; this will be easy to do.
Hemorrhoids are increasing in prevalence across the United States, with up to 40 percent of adults now thought to be affected. This is largely due to modern lifestyles and working habits, as the majority of people now spend much of the day sitting, or in sedentary occupations. This increases the pressure on the lower back and the lower part of the abdomen. This includes the colon, rectum and anus. Hemorrhoids develop in this region as a result of the pressure that is being applied to the blood vessels.
About LA Hemorrhoids
LAHemorrhoids.com is a brand new website from the specialist colorectal surgeons at Los Angeles Colon and Rectal Surgical Associates. It is designed to provide comprehensive information and advice for patients suffering from hemorrhoids, including how to treat and prevent this painful condition.
About Los Angeles Colon and Rectal Surgical Associates
Los Angeles Colon and Rectal Surgical Associates provide patients with expert care for a wide range of conditions affecting the colon, rectum and anus. With five expert colorectal surgeons at a practice that has been serving Los Angeles and the surrounding areas for over fifty years, patients can be certain of receiving world-class treatment. The proctologists are Gary Hoffman MD, Eiman Firoozmand MD, Liza Capiendo MD, Steven Yoo MD, and Allen Kamrava MD. There are currently two offices serving Culver City, Santa Monica, Beverly Hills, West Hollywood, Los Angeles, the valley and the reminder of Southern California. The offices are located in Beverly Hills and Culver City.
###
Los Angeles Colon and Rectal Surgical Associates
9400 Brighton Way, #307
Beverly Hills, CA 90210
(310) 273-2310