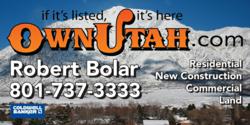 One site will now service both North Ogden and Pleasant View residents real estate needs.
North Ogden, Utah (PRWEB) June 18, 2013
The merger will take effect on Tuesday, when SellUtah.com will become OwnUtah.com. This will offer the most variety and complex searching for users of both sites. OwnIUtah.com has been built with the North Ogden City consumer in mind. The purpose of this website is to enable residents and property owners of both North Ogden City and Pleasant View City municipalities to easily access the properties that are for sale in the Greater Ogden Area. Robert Bolar has made OwnUtah.com searchable with all local area listings on the site with map and google street view on almost all properties.
The company offers residential and commercial brokerage listings, corporate relocation and mortgage services. Through its internationally renowned web site program, the company is widely recognized for its expertise in the luxury housing market. 
OwnUtah.com has been rapidly growing in the North Ogden City, Utah. We need high caliber agents to help us meet the increasing needs of our clients," said Robert Bolar founder of these two leading internet sites for the Northern Utah area works for Coldwell Banker.
For more information please visit http://www.OwnUtah.com or call Robert Bolar at 801-737-3333.