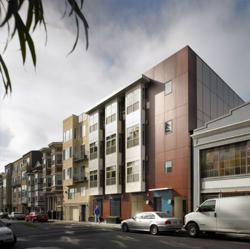 ZETA's approach of deploying specific standards throughout the design and build process leads to higher labor productivity and greater job satisfaction.
San Francisco, California (PRWEB) June 17, 2013
ZETA Design + Build announced today that Bill Talbott has joined the Company as VP Manufacturing.  With over 20 years of management experience in systems-built construction, Mr. Talbott brings a tremendous wealth of knowledge in quality management, energy efficiency and lean Six Sigma manufacturing to ZETA's off-site fabrication facilities.
"We are pleased to welcome Bill to our team" said Howard Koenig, Chief Executive Officer of ZETA Design + Build. "We have assembled a highly accomplished executive team from inside and outside the industry. Bill brings unique skills to our shared vision of transforming building design and construction. His in-depth knowledge of how innovative manufacturing techniques can be applied to building construction is invaluable to our commitment to always delight our customers and to continually improve our tools, products, and processes."
According to Dr. Paul Teicholz, Professor Emeritus at the Department of Civil and Environmental Engineering at Stanford University, productivity levels in the construction industry have been declining since the 1960's.  Teicholz, in a recent article for the online building technology publication AECbytes, advises that increased use of Building Information Modeling (BIM) and greater reliance on off-site fabrication can be sources of positive gain for construction industry efficiency.
ZETA was founded in 2008 to address these opportunities and has been pioneering the integration of BIM with advanced design tools into a building design, configuration, and off-site fabrication system. By combining the use of modern technology, capital equipment, and lean manufacturing techniques, ZETA is transforming an industry once characterized by low productivity levels and uncertain profits.
Bill Talbott states: "One of the most important things we can do is to eliminate problems before they happen.  ZETA's approach of deploying specific standards throughout the design and build process leads to higher labor productivity and greater job satisfaction. It also greatly reduces or eliminates errors and omissions. And, by working closely with the developer's entire project team – from the conceptual design through to project completion – we are able to fully optimize the use of space without relying on change requests."
ZETA was the first company to apply innovative off-site fabrication systems to the manufacture of net-zero-energy buildings. In 2010, ZETA Design + Build completed a demonstration project in Oakland, California with two 1,540-square-foot townhouses that achieved a Leadership in Energy and Environmental Design (LEED) Platinum rating, and EPA's highest indoor air rating, Indoor airPLUS.
The research undertaken to develop the net-zero-energy townhouses has been rapidly deployed at a significantly larger scale in ZETA's 91,000 sq. ft production facility in McClellan, California, northeast of Sacramento where the Company produces finished modules for multifamily residential and commercial buildings.
In 2013, ZETA also completed its first micro-unit apartment building – a 23 unit, urban infill apartment building located at 38 Harriet Street in San Francisco. This initial implementation has drawn critical acclaim and sparked national interest in the micro-unit concept and application.
Asked about other practical benefits of ZETA's design and build system, Mr. Koenig responded: "Our methodologies and systems lead to greater construction efficiencies, and reduced risk and uncertainty. This translates directly to higher and more predictable profits. Projects benefit in terms of higher quality construction, lower ongoing operating and maintenance costs as well as a healthier, more comfortable living environments for owners, employees and residents."
For more information about ZETA Design + Build, please visit: http://www.zetadesignbuild.com
About ZETA Design + Build:
ZETA is transforming multifamily residential and commercial construction markets with its design and build products. By combining innovative design, planning and pre-development expertise with off-site fabrication of precision-built modules in a cleantech factory, ZETA produces higher quality, more energy efficient buildings, in less time. ZETA is funded by North Bridge Venture Partners and Black Coral Capital.