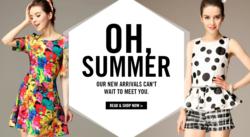 OASAP also provides a 20% off promotion on the new dresses from today.
New York (PRWEB) June 19, 2013
As the Independence Day is approaching, OASAP is very delighted to launch 50 new styles of women dresses, and announce a worldwide promotion, from today to July 4th, 2013.
These new dresses come in various patterns and styles, and they are sorted into maxi dresses, mini dresses, printed dresses, overlay dresses, lace dresses, and A-line dresses.
OASAP women dresses are always popular among young fashionistas all over the world, and they are sold at affordable prices of $70 - $150.
Yuki Yu, Brand Director of the company, said, "OASAP new dresses come with the latest designs, quality materials and fine tailoring. We are really excited to launch them before the Independence Day, so that our dresses are available to more people. We also provide a 20% off promotion on the new dresses from today. Please take a few minutes to browse through OASAP women dresses collection, and you will find something for yourself."
Moreover, as an online fashion retailer, Oasap.com has the lowdown on what's trending in the world of women dresses. It will continue to launch more high-popularity women address for global fashion lovers, such as, A-line sweetheart dresses, V-neck dresses, chiffon dresses, vintage dresses __title__ vintage dresses and party dresses.
ABOUT US
OASAP IS: A High-street Fashion Online store
OASAP Likes to: Deliver fashion & love!
OASAP is a global online store dedicated to high-street fashion by offering various kinds of women's apparel, bags, shoes, jewellery, accessories, beauty products, etc.
OASAP was founded in late 2011, and has already grown to the leader of high fashion online stores. We keep updating products at a high rate every day. Now we update more than 600 new products each week. Those products mentioned definitely belong to the latest fashion trend.