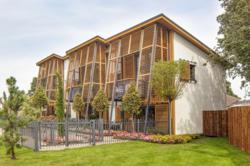 Recycle Week is celebrating its 10th Anniversary this year and runs from 17-23 June
(PRWEB UK) 17 June 2013
Barratt is marking the 10th anniversary of Recycling Week(June 17-23) in style at its Hanham Hall development in Bristol with one of its showhomes demonstrating recycling in the widest sense.
The five star housebuilder is setting new standards at the development in everything from building techniques to water retention, open spaces, and energy efficient measures.
And to showcase how attractive recycled, reclaimed and eco-friendly products can be, Barratt is inviting visitors to take a closer look at the decor, furniture and accessories in the three bedroom showhome.
The showhome is educational with information points throughout the house to highlight specific features of the homes at Hanham Hall and Barratt interior designer Louise McCarthy from Tryptych Design has created a home with a definite wow factor after scouring websites, reclamation depots and fair-trade suppliers.
"Hanham Hall is an amazing development and creating a showhome which matched the style, and forward thinking nature of the homes was one of the best challenges I have ever taken on,'' said Louise who has been designing showhomes for the five star housebuilder for the last 20 years.
"The home contains everything from old phone wires through to a sail, old school blazers and oars,'' said Louise. "But they have all been transformed into stylish items and give the new homes real character.''
The phone wires now serve as a woven basket, the sail is on a deckchair, the old school blazers make up a cushion and the oars are used on the wall as an alternative to more traditional paintings or photographs.
Other examples of recycled items in the house include an old tin drum which is now a table, soda siphons which have been transformed into bedside lights, photo frames made from rulers and vintage mirrors which are now classy headboards.
Recycling has become an integral part of life for many people, something Recycling Week is highlighting, but Louise said there is still so much more we can do and furnishing a new home is an ideal place to start.
"A brand new house really is a blank canvas for people and what we are showing at Hanham Hall is that you can create a stylish new home without spending thousands of pounds,'' said Louise. "And it's great fun visiting recycling centres and looking online to find some amazing products and thinking about how you can recycle everyday items.''
Barratt sales director Andrea Pilgrim said the showhome and its recycled features had proved a real talking point at Hanham Hall. "We always pride ourselves on creating attractive and striking showhomes which really show off our properties and we are now looking at incorporating more recycled products in future developments. There's no doubt that Louise has really demonstrated the beauty of recycling at Hanham Hall.''
Hanham Hall was launched last summer and once complete will feature 185 new homes with the Grade II Listed Hanham Hall as its centrepiece. Set in 12 acres of open space the
development features plenty of open space with kick around areas for children, allotments, an orchard, communal outdoor areas and direct access to the Bristol to Bath cycle path.
For further information call Barratt on 0844 5710 385 or log onto http://www.barratthomes.co.uk.
Recycle Week is celebrating its 10th Anniversary this year. Taking place from 17-23 June, the week has an overarching theme of 'Recycling - at home and away' and will focus on metals, plastics, packaging, textiles and food waste. http://www.recyclenow.com.