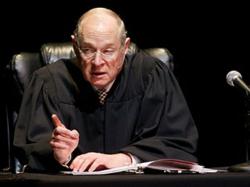 Two of the justices made inaccurate assertions that confuse people on both sides of the issue. Our video separates fact from fiction.
Los Angeles, CA (PRWEB) June 17, 2013
RaiseAChild.US has released a video response to the U.S. Supreme Court's recent discussion of the history of LGBT parenting. It cites the research that assesses the quality of such parenting that some of the justices appear to feel is lacking.
"Justice Anthony Kennedy asks whether we should consider the voices of the 40,000 California children raised by gay and lesbian parents. We answer with a resounding, 'Yes, we do!'" says Rich Valenza, founder and CEO of RaiseAChild.US. "These children expect their parents to have the same rights as their friends' parents. Justices Kennedy and Scalia may believe there is no sociological evidence supporting adoption by same sex couples, but experts know otherwise."
"The U.S. Supreme Court will rule on two landmark cases affecting marriage equality for gays and lesbians,… these rulings will directly affect these children," says John Ireland, RaiseAChild.US co-founder and media director. "Two of the justices made inaccurate assertions that confuse people on both sides of the issue. Our video separates fact from fiction."
During the March 26, 2013 oral arguments for Hollingsworth v. Perry, the two justices tied marriage equality closely to parenting. Associate Justice Antonin Scalia said, "There's considerable disagreement among sociologists as to what the consequences of raising a child in a single-sex family… whether that is harmful to the child or not… it is certainly true that there is no scientific answer to that question at this point in time." Associate Justice Anthony Kennedy echoed Scalia's assertion that the research into outcomes for children raised by gay and lesbian parents is limited.
"Not only is there this giant body of experience and evidence out there in the world, but literally in these cases there is unrefuted evidence," counters Evan Wolfson, founder of the nonprofit organization Freedom to Marry. He is referring to the U.S. National Longitudinal Lesbian Family Study, which since 1986 has followed a cohort of planned lesbian families with children conceived through donor insemination.
"Our study is now in its twenty-seventh year," says Nanette Gartrell, MD, visiting distinguished scholar at The Williams Institute at UCLA. "We interviewed their mothers for the first time before they were even born. The most recent round of data gathering occurred when they were 17 years old [and] found that they were doing very well academically… they had very strong friendship networks [and were] very closely bonded with their families," she said.
Just one week before the Justices' remarks, the American Academy of Pediatrics declared its support for same-sex marriage, saying it is in the best interests of children. The academy's review of scientific literature began more than four years ago, and the result is a 10-page report with 60 citations.
RaiseAChild.US believes that all children deserve a safe, loving and permanent home. The video and more information about the organization's work in promoting fostering and adoption in the LGBT community is available at http://www.RaiseAChild.US.