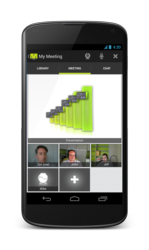 Our users are now able to spontaneously host and join online meetings from anywhere on a device available at that moment.
Swindon, UK (PRWEB UK) 18 June 2013
ISL Online, the provider of cloud-based remote desktop and web conferencing solutions, has released today a new mobile app ISL Groop for Android supporting now all major operating systems; Android, iOS, Windows, MacOS. The new release enables businesses to host or join interactive online presentations, meetings and webinars over the Internet from any device and platform. Get ISL Groop for Android free on Google Play.
ISL Groop is a simple web conferencing application that allows people to collaborate from anywhere and offers the best meeting experience in and outside of the office. It allows screen, region and application sharing, session recording, whiteboard tools, voice and video conferencing, text chat and more. Collaborators can easily start a meeting from their email while a simple web console lets hosts quickly roll out a new meeting together with invitations to share content in real-time. Best of all, meetings can now be accessed from a PC, Mac, Linux, iPad, iPhone, and an Android device.
"Smooth collaboration over the Internet is all the rage among businesses these days," explains Jure Pompe, ISL Online CEO. "We understand this and have been investing all our efforts into bringing web conferencing to all major platforms and devices over the last year so that our users would be able to spontaneously host or join online meetings from anywhere on a device available at that moment."
Mobile features
The new mobile app, which is free for users who join a meeting, offers nifty features:

Joining and hosting a meeting from an Android device.
Rolling out a new meeting.
Inviting colleagues via email or message.
Audio and video conferencing.
Viewing slides and content shared from a desktop computer.
Choosing a slide to be used in the meeting.
Chatting publicly.
Chatting privately with individual attendees.
Getting started
ISL Groop for Android on Google Play.
ISL Groop for iOS on AppStore.
ISL Groop for Windows and Mac.
How web conferencing from Android works (ISL Online Blog).
About ISL Online
ISL Online provides SaaS-based remote access, remote desktop, live chat and web conferencing solutions to connect quickly, simply and securely millions of Internet-enabled devices across the globe. Designed for consumers, mobile professionals and IT organisations, ISL Online's solutions empower over 150,000 business users like Konica Minolta, Canon, Mitsubishi Electric, Batelco and Coca Cola to create more than 6 million sessions yearly. Founded in 2001, ISL Online is one of the pioneers of the remote desktop industry.