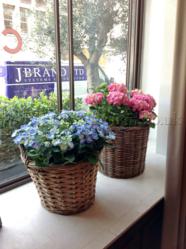 'The idea is so that guests can brush past the window and smell the divine scents of the display' says Laura Fisher.
(PRWEB UK) 19 June 2013
Todich Floral Design has been expanding to new levels and the flower service company has recently included a stylist within their wedding and events team. "Each florist has their own unique ideas to put forward to an event," says managing director Todd Z. Todic 'Our newest team member is passionate about the vintage flower fashion trend and we are thrilled to have her on board!'
Laura Fisher, the new stylist at Todich Floral Design, has already made her mark within weeks of starting. The professional stylist offers a wild garden theme, combined with vintage chic, and this has already proved popular with clients and London brides.
One of their biggest clients, a French brasserie in west London, has worked one on one with the new consultant on imaginative window display designs. Laura Fisher has been working her magic by putting together a wild French garden theme, which ties in with the r estaurant's style.
An old fashioned wooden ladder, a white washed vintage mirror, pre-war suitcases, rustic crates and even an original 1950's bike are just some of the props used in the display. Each prop has been filled with an abundance of mixed herbs, lily of the valley flowers, pretty platycodon or jasmine.
Todich Floral Design sources all of the material and props themselves, and they are even continuing the theme for their most recent weddings. The florist believes that wild plants such as heather, chrysanthemums or lavenders planted in galvanised containers make great cost effective table centres for wedding receptions. Vintage chic is here to stay!
About Todich Floral Design
Todich Floral Design is an award winning wedding and event florist based in London: Renowned for its bespoke customer service; the flower design team offers personal one-to one consultation which helps put customer's minds at ease in organising event flowers. Todich Floral Design are able to provide beautiful flower arrangements for all special occasions within the London area, whether it is for an engagement party or a family gathering: the talented team are on hand to put their professional flower designs forward for that special day.