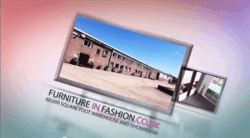 (PRWEB UK) 22 June 2013
FurnitureInFashion's advert will be featured on GEO TV during the popular Indian International Film Academy (IIFA) Awards. The advertisement will be aired on June 16th, 2013 on GEO TV during the awards. FurnitureInFashion will benefit from airtime offered by GEO TV, with the company airing in ten spots, featuring its products and services during the following 30 days.
Geo TV is a private Pakistani television channel established in May 2002. GEO TV is one of the most popular entertainment channels in Pakistan, with a huge viewership. The channel not only broadcasts local drama and entertainment programs, but is also known for broadcasting major films and other entertainment events. The GEO television network has several other Pakistan-based channels, including GEO Entertainment, GEO Tez, GEO News, GEO Super and GEO Kahani. GEO TV always highlights the Indian film awards due to the worldwide appreciation of Indian cinema. The IIFA Awards are prestigious Indian cinema awards, which attract an enormous audience from around the world. This huge audience will allow FurnitureInFashion to highlight its products on a global scale.
FurnitureInFashion is owned by a Pakistani expat, Asad Shamim. Asad started this business venture in 2008 and within a very short time, the company has become one of the leading retail furniture stores within the UK. The CEO and Managing Director of the company, Asad Shamim, has worked tirelessly to become the leading supplier of furniture to both domestic and commercial customers. Currently, the company is a supplier of furniture to some of the most renowned companies in the UK. The company holds over 90% of its catalogue in stock, unlike its competitors. The company also offers an affiliation scheme to numerous small businesses within the UK through its well established retail network.
The CEO and Managing Director of FurnitureInFashion said, "FurnitureInFashion has come a long way after tireless efforts. The company's design team, customer service representatives, people involved in operations and all the other stakeholders have contributed towards the success of this company. As the largest supplier of contemporary furniture in the UK, the company now has a well-established business base. FurnitureInFashion is also planning to expand its business in the Middle East and in Europe as well. We are launching our first flagship store in Dubai soon. By having airtime at GEO TV, with its very large viewership, FurnitureInFashion will be able to showcase its products and reputation on a larger scale with viewer from all around the world. The company plans to capitalize on this exciting opportunity. We at FurnitureInFashion are also grateful to GEO TV for providing this amazing opportunity to showcase our products and services."
FurnitureInFashion is currently expanding its business operations throughout the world. The company claims to be the preferred choice for all kinds of furniture within the UK. FurnitureInFashion also prides itself on its reputation for offering the most affordable quality furniture ranges in the UK.
To have a look at quality affordable furniture online, and to place a pre-stock order, please visit the company website today at http://www.furnitureinfashion.net. The range of furniture on the website is huge, delivery is fast, savings are massive and quality is guaranteed.
About FurnitureInFashion
FurnitureInFashion is a UK-based online retail business. It supplies furniture from its German-based warehouse and has a showroom in Bolton, UK. The company provides everything from umbrella stands, wall art and room dividers, to bedroom suites, bar stools, and computer tables. FurnitureInFashion offers free delivery within the UK and is rightly proud of its excellent customer service. For further information and details about sales, please visit http://www.furnitureinfashion.net.