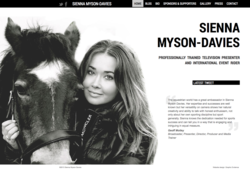 (PRWEB UK) 18 June 2013
Graphic Evidence's web designers have recently created a brand new website for International Event Rider and Television Presenter Sienna Myson Davies.
The newly designed website has a modern and stylish look which portrays Sienna's personality and professionalism as she builds her career as a television presenter.
The website features an impressive press page and gallery, which displays just a sample of the success Sienna has enjoyed throughout her early career as a young International Event Rider.
The professional website will help boost Sienna's aspirations as a television presenter. The addition of a blog and feeds from social networking platforms such as Twitter, will allow Sienna to keep her fans, sponsors and supporters regularly updated with both her presenting and riding careers.
To view Sienna's new website designed by Graphic Evidence, please visit http://www.siennamysondavies.com.
To find out more about the work of Graphic Evidence's graphic designers and Graphic Evidence as a creative marketing company and to view other web design projects, please visit http://www.graphicevidence.co.uk.